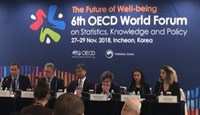 Artificial Intelligence (AI) has the potential to enhance well-being in transport. ITF Secretary-General Young Tae Kim highlighted AI's likely positive impacts on safety, security, the environment and access during the 6th OECD World Forum in Incheon, Korea, on 27 November (photo).
The Forum, being held on the topic of "The Future of Well-being", allowed a focus on digitalisation's effect on well-being. This is of particular significance to the transport sector at a time where ITF member country governments are witnessing an explosion in new mobility services, often based on disruptive technologies. These can have far-reaching effects on equality, employment, access and well-being. In the parallel session on "Artificial Intelligence and well-being", Secretary-General Kim pointed out the importance of good policies to allow countries to reap the benefits of AI, while managing the transition, particularly in terms of changes in employment, which such a transition implies.
In 2017, the ITF published a landmark report on automation on the truck sector, mapping out global action around driver jobs and associated legal issues. Go to the report "Managing the Transition to Driverless Road Freight Transport".
About
International Transport Forum

The International Transport Forum at the OECD is an intergovernmental organisation with 59 member countries. It acts as a think tank for transport policy and organises the Annual Summit of transport ministers. ITF is the only global body that covers all transport modes. The ITF is administratively integrated with the OECD, yet politically autonomous.