Stations

What does the Stations department do?
Improves mobility in Belgium
Develops and modernises stations and their surrounding areas
Improves facilities and services inside stations
Plays a central role in urban development
What are the main priorities for the future?
The main priority of the Stations department is to turn stations and their surrounding areas into intermodal hubs and dynamic business centres, by focusing on several key areas.
Accessibility: people with reduced mobility, connection to the road network, car and cycle parks, station connectivity;
Intermodality: connections to other forms of public transport, taxi and kiss & ride areas, car and bicycle sharing;
Sustainability: energy savings, new technologies, tackling vandalism;
Station functionality: services, accessibility for people with reduced mobility, signage and information;
Safety: fire safety, anti-intrusion, lighting;
Urban development.
Transport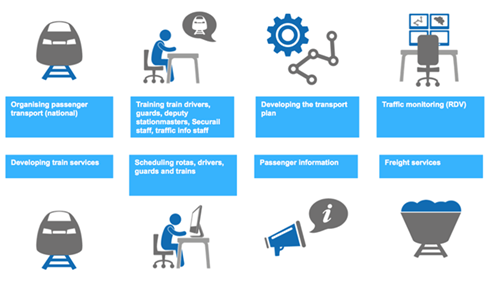 What does the Transport department do?
The Transport department is exclusively responsible for operational management. It organises the national train service, from drawing up timetables to monitoring rail traffic in real time. As part of its work, it also manages rolling stock, drivers, train guards and safety.
More specifically, the Transport department is responsible for:
developing the Transport Plan and organising passenger train timetables;
monitoring the Transport Plan and updating it in December and June each year;
informing and training staff involved with the Transport Plan;
rolling stock and driver scheduling;
managing and training train guards;
operational management of train services and deploying them locally;
operational safety, passenger and staff safety.
What are the main priorities for the future?
To guarantee passenger, staff and train safety (operational safety, social safety, occupational safety).
To improve the punctuality of rail traffic (in collaboration with other departments).

Greater availability and reliability of rolling stock;
Awareness-raising (comprehensive activities on the ground);
Closer operational collaboration between Infrabel and SNCB;
Limiting significant delays;
Robustness of the 2014 Transport Plan.

To give customers a quality service.

Giving customers organised information in real time (in stations, on trains, via social media);
Clean trains;
Assisting people with reduced mobility, groups.
SNCB Europe
Thalys
High Speed to Paris, Amsterdam and Cologne
Wi-Fi on board
Bar-buffet
Comfort 1: free catering at your seat, newspapers
Summer: Thalys Sun to the South of France
Winter: Thalys Snow to the French Alps
Eurostar
Brussels-London in 2 hours
Up to 11 trains a day
Departure also from Lille
Check in up to 30 mins before departure
Arrival at London St Pancras International
Choose from 3 comfort classes
TGV
Daily from Brussels-Midi to 22 French destinations
Interior designed by Christian Lacroix
Bar carriage with drinks and snacks
Children compartment with nursery room
Cheap Prem's fares for quick bookers
ICE
Dozens of German cities at 300 km/h
Wi-Fi available on main routes
TV screens and individual audio sets
Bistro carriage.
Family compartment where children can play
Eurocity
To Luxembourg, eastern France and Switzerland
2 direct trains a day from Brussels via Namur
Seat reservation recommended
25% discount for holders of a Railplus card
Intercity
Regular services to Amsterdam, Lille, Luxembourg, Maastricht, Aachen and Roosendaal
Flexible: no seat reservation
Various discounts (Escapade, Trampoline Weekend etc...)
Various discounts (Weekend, Superdagretour, Youth etc...