Intelligent solutions for buses and railways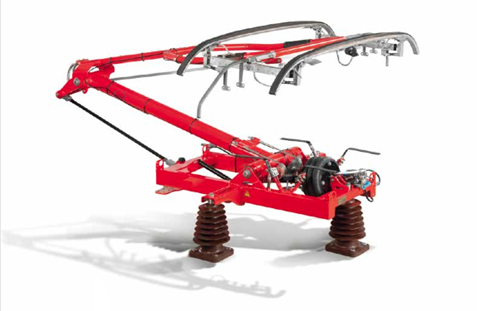 The Schunk Bahn- und Industrietechnik GmbH is your design and development partner for everything to do with power transmission in the industrial and railway sector. Our range of products includes one-stop customized solutions: design, production, installation, sales and application engineering. The main company focus is on pantographs, third-rail-shoegears, reverse current and safety grounding contacts, switching contacts, carbon brush holders for electric engines as well as current connectors, wheel flange lubrication systems, conductor bands and our monitoring system developed specifically for carbon strips (Intelligent Carbon). Schunk Bahn- und Industrietechnik in Wettenberg and Salzburg are certified in accordance with IRIS and DIN ISO 9001.
Schunk Bahn- und Industrietechnik was able to demonstrate their innovative strength in 2010 with their nomination to the Austrian National Awards. The development of a new type of spring tensioned system for high-speed trains was nominated by the jury for the highest award for innovative products. Also in 2012, SBI is demonstrating their forward-looking technology: SBI is working on the development of innovative charging stations and shoegears for electric buses within the scope of a Federal Ministry of Education and Research promoted joint project SEB (rapid charging system for electric buses in public transportation).As of 2014, Schunk pantographs for electric buses are being used in test runs in the Netherlands as well as Germany and are already enjoying great popularity.
Schunk Bahn- und Industrietechnik is part of the Schunk Group, an international technology group with approximately 8,150 employees in 29 countries. The company offers a broad range of products and services in the areas of carbon technology and ceramics, environmental simulation and climate technology, sintered metal and ultrasonic welding technology. The Schunk Group has posted sales of approximately 940 million Euros.
Company information
Headquarters location Hauptstrasse 97
35435 Wettenberg
Germany

Office locations
Aupoint 23
A-5101 Bergheim bei Salzburg
Austria

Some facts
Solutions
Propulsion Components
Components for Railbound Vehicles
Control Equipment
Electrical Components
Mechanical Components