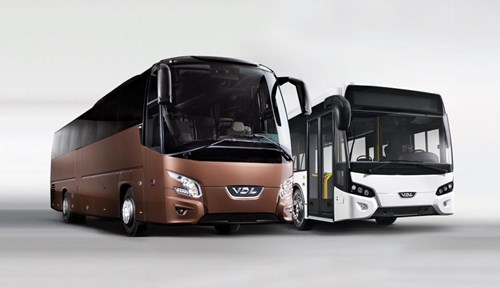 The core activities of VDL Bus & Coach consist of the development, manufacturing, sales and after-sales service of a wide range of buses, coaches and chassis modules and the purchase and sales of second-hand buses as well. VDL Bus & Coach consists of multiple bus companies that operate cooperatively in the global market. Manufacturing takes place in the Netherlands and Belgium.
VDL Bus & Coach places aspects such as quality, safety, durability, comfort, the environment, low fuel consumption and low maintenance costs in high regard.
Sales of VDL Bus & Coach products take place through a worldwide network consisting of corporate-owned sales offices, importers and agents in more than 30 countries. This makes it possible to offer custom-made transport solutions.
For after-sales service and maintenance, the client can count on rapid, hassle-free assistance from VDL Bus & Coach employees in any of the many service locations.
An extensive distribution network ensures that spare parts and accessories are delivered to the requested destination as quickly as possible.
VDL Bus & Coach is one of the largest bus producers in Europe.
VDL Groep, with its head office in Eindhoven (The Netherlands), is an international industrial company focused on the development, production and sales of semi-finished products, buses & coaches and other finished products and the assembly of cars. Since the founding in 1953 this family-owned company has grown to include 85 operating companies, spread over 19 countries with more than 10,000 employees. The strength of VDL Groep lies in the mutual cooperation between the companies.
Company information
Headquarters location De Vest 7
5555 XL Valkenswaard
The Netherlands

Some facts
Solutions
Roadbound Vehicles for Public Transportation