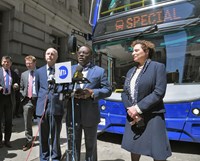 MTA New York City Transit unveiled a comprehensive plan today to reimagine New York's entire public bus system and deliver world-class service with immediate and long-term improvements. The NYC Transit Bus Plan is the result of an expansive review of the system commissioned by NYC Transit President Andy Byford, who declared improving bus service as one of his top four priorities on his first day in office in January. The Bus Plan precedes Byford's broader, upcoming NYC Transit Corporate Plan, a thorough top-to-bottom review and modernization agenda to improve service across all NYC Transit disciplines, including subway, bus and paratransit service.
"We've listened to our riders' concerns and are working tirelessly to create a world-class bus system that New Yorkers deserve," said NYCT President Andy Byford. "We're targeting challenges like traffic congestion and enforcement, undertaking bold initiatives like redesigning the entire route network, and pursuing advancements such as the latest computer-aided management, double-decker and electric buses, all-door boarding, and improved customer service with more real-time data. Our customers will start to see changes this year and we will never stop improving this critical component of New York City's transportation landscape."
The MTA runs the largest public bus system in North America, about 40 percent larger than the next-largest, Los Angeles. Each weekday, the MTA provides more than 2 million rides, across 54,000 trips on 326 routes, with a fleet of more than 5,700 buses.
While the NYC Transit Bus Plan is a comprehensive, clean-slate approach to reimagining the entire bus system, it builds upon numerous existing and ongoing initiatives, such as the growing Select Bus Service (SBS) network, "traffic signal priority" technology that allows traffic lights to prioritize oncoming buses, and the complete redesign of the Staten Island express bus network, which was announced last month and developed with unprecedented levels of customer, community and stakeholder outreach. Accordingly the NYC Transit Bus Plan incorporates customer feedback and recommendations from transit advocates and technical experts.
Specific elements of the NYC Transit Bus Plan include:
A completely redesigned bus route network. NYC Transit is performing a top-to-bottom, holistic review and redesign of the entire city's bus route network – the first in decades – based on public input, demographic changes and travel demand analysis. Route changes will provide better connectivity and more direct service in every neighborhood, with updated stop spacing and the expansion of off-peak service on strategic routes.
Collaboration with NYCDOT, NYPD, & local communities. NYC Transit will collaborate with NYCDOT to expand the implementation of bus lanes, exclusive busways, queue jumps, bus stop arrival time displays and bus priority technology on traffic signals and buses known as "traffic signal priority." Many of these changes will also require robust community outreach. NYC Transit will also advocate for strengthened NYPD enforcement of bus lanes, dedicated transit-priority traffic teams, and legislative approval to expand bus-mounted cameras beyond 16 existing routes to help enforce bus lane rules in more locations.
Speeding up boarding by using all doors. NYC Transit is pursuing new approaches to speed up bus boarding, particularly using upcoming electronic tap-to-pay readers to facilitate all-door boarding. While purchasing fare media with cash will always be an option with the new fare payment system being developed by the MTA, NYC Transit will also explore cashless options to speed up boarding time in select circumstances.
Improving customer service and the customer experience. NYC Transit is in the midst of implementing a renewed and intensified dedication to customer service across all of its services. Additionally, bus customers will benefit from technological advancements like digital information screens providing helpful bus route, next stop and real-time service advisories. Seat availability information on express buses will become available via a mobile application, and the Bus Performance Dashboard unveiled earlier this year will see continual enhancement. NYC Transit will also develop simpler and more helpful bus route maps – including dynamic, customizable and location-specific maps – and work with NYCDOT to have more bus shelters equipped with real-time bus arrival info displays.
Proactive management to improve service delivery. NYC Transit is opening a brand new Bus Command Center and upgrading to the latest computer-aided dispatch and operations support technology, including using GPS-based displays of bus locations to help bus operators and dispatchers work together to reduce "bunching," the uneven spacing of buses that can often lead to multiple buses arriving at a stop at once. Reorganization and updated training will also streamline operations and the strategic sharing and deployment of resources. NYC Transit will work with supervision and the workforce to explore how to better use buses that sometimes travel empty as they return to depots.
Enhancing NYC Transit's world-class fleet of buses. The NYC Transit Bus Plan will also focus on enhancing the bus fleet using zero-emission, all-electric buses as well as double-decker buses. A pilot test of 10 electric buses began earlier this year, while a double-decker express bus will be tested on a Staten Island route starting this spring. The rest of the fleet is being upgraded with digital displays to show real-time route, stop and service update information, as well as traffic signal priority and new fare payment technology. The bus fleet is also being outfitted with new safety technologies such as turn warnings for pedestrians, and security cameras.
"As the largest bus system in North America, we recognize our critical role in New York's transportation infrastructure," said MTA Bus Company President and NYCT Department of Buses Senior Vice President Darryl C. Irick. "This plan ensures that all our bus operations now and far into the future are customer-centric and nimble enough to adapt to the changing city."
Details about the plan were presented to MTA Board members at the NYC Transit Committee meeting today (video to be available at https://www.youtube.com/user/mtainfo), while pilot double-decker and electric buses were parked outside for public viewing. Byford and Irick will also discuss the Bus Plan at NYC Transit's next #AskNYCT Twitter chat, Thursday April 26 from noon to 1 p.m. on the @NYCTBus handle. It will be NYC Transit's second-ever Twitter chat and focused on the bus system.
About MTA
The Metropolitan Transportation Authority is North America's largest transportation network, serving a population of 15.3 million people in the 5,000-square-mile area fanning out from New York City through Long Island, southeastern New York State, and Connecticut.
It drives the New York regional economy by opening up countless job opportunities for millions – jobs that are miles from home are easy to get to with our subways, buses, and commuter trains. And after work, the network enables them to get to leisure activities: music, theater, cultural events, sports, and shopping more varied than anywhere in the country.