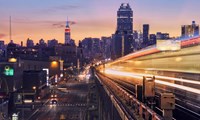 The Metropolitan Transportation Authority (MTA) in New York has announced that it has issued a request for proposals from transportation companies to advance the 'Late-Shift' pilot programme to improve shared mobility for New Yorkers working the late shift by connecting them with the subway system outside of Manhattan during overnight hours.
Late shift employment, often in major industries such as healthcare, food services, and hospitality/leisure, is expected to grow faster than the overall economy over the next five to 10 years.
"With increasing numbers of people moving away from the traditional 9-5 Manhattan-centric work schedule, we want the MTA to evolve to best support New York's continually diversifying economy," said MTA Chief Innovation Officer, Mark Dowd. "We are seeking to leverage new mobility technologies to enable more New Yorkers to benefit from the public transportation network during the overnight hours, and to enhance the experience of overnight subway customers in low-cost ways."
The request-for-proposals process will begin by looking at areas in The Bronx, Brooklyn, Manhattan, Queens and Staten Island that are more than a half-mile from the nearest subway station and have limited bus service with arrivals less frequent than every 20 minutes overnight. Criteria for participating subway stations will be evaluated throughout the course of the request for proposals process.
The shared mobility 'late-shift' request for proposal is being conducted in two phases. Phase one will centre on data collection and analysis to determine the structure of the pilot. During Phase two, the location, timeframe and business terms of the pilot programme will be determined.
The MTA anticipates selecting a 'late-shift' pilot programme partner by the end of March 2020.
About MTA
The Metropolitan Transportation Authority is North America's largest transportation network, serving a population of 15.3 million people across a 5,000-square-mile travel area surrounding New York City through Long Island, southeastern New York State, and Connecticut. The MTA network comprises the nation's largest bus fleet and more subway and commuter rail cars than all other U.S. transit systems combined. The MTA's operating agencies are MTA New York City Transit, MTA Bus, Long Island Rail Road, Metro-North Railroad, and MTA Bridges and Tunnels.