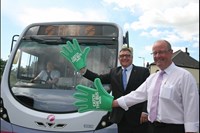 Catch the Bus Week 2016 runs from 4th-10th July

Operators, local authorities and transport groups encouraging the public to give the bus a try

New low emission buses launched in Rotherham
First South Yorkshire is joining forces with sustainable transport group Greener Journeys to encourage people to swap car journeys for their local bus services as part of national campaign 'Catch the Bus Week'.
The campaign, which takes place from Monday 4 July to Sunday 10 July aims to raise awareness of the vast economic, environmental and social benefits of taking the bus. This week, bus operators, local councils, members of parliament, schools and passenger transport groups are holding events and promotions to celebrate that contribution, and encourage drivers to try a more sustainable choice of transport.
Now in its 4th year, Catch the Bus Week – spearheaded by Greener Journeys – brings together hundreds of organisations across the country, engaging communities with creative and exciting promotional activity.
As part of Catch the Bus Week 2016, six new Wrightbus StreetLite single deck buses have been launched by Barnsley & Rotherham Chamber of Commerce Chief Executive Andrew Denniff. The £1m investment in new vehicles feature luxury e-leather seating and include EuroVI microhybrid technology. The low carbon emission compliant buses produce 95% less oxides of nitrogen (NOx) emissions compared to buses with Euro V engines and as a result will help improve air quality across the borough. The new buses will operate on routes across Rotherham.
The new Rotherham buses form part of a 2016 vehicle investment programme of over £5m across South Yorkshire supporting the Bus Partnerships with local councils, the Passenger Transport Executive and other operators. This announcement follows a £3m investment in Doncaster earlier this year and a £1m+ investment in Sheffield later this year.
Claire Haigh, Chief Executive of Greener Journeys, commented: "Once again, we are delighted to see the entire bus sector coming together to promote the benefits of the bus. There isn't a single area of our daily lives that doesn't in some way depend on the bus so it is fantastic to see its worth celebrated in such extravagant fashion."
Andrew Denniff, Chief Executive of Barnsley & Rotherham Chamber of Commerce said: "Buses play an important role connecting people and supporting our local economy and I welcome this latest initiative by First South Yorkshire as part of Catch the Bus Week to encourage even more people to use buses."
Kevin Belfield, managing director for First South Yorkshire added: "Catch the Bus Week is a unique and fun initiative to show people the benefits of taking the bus. The campaign provides an excellent opportunity to showcase the very best of bus travel and highlight just how convenient, reliable and affordable using the bus is. We're delighted to announce this latest investment today during Catch the Bus Week that supports the hard work being done through the Bus Partnerships to grow bus use across South Yorkshire."
About First Group & First Bus
FirstGroup plc is the leading transport operator in the UK and North America and our services help to create strong, vibrant and sustainable local economies. During the last year around 2.4 billion people relied on us to get to work, to education, to visit family and friends and much more and, each day, every one of our 110,000 employees works hard to deliver vitally important services for our passengers.
Our vision is to provide solutions for an increasingly congested world… keeping people moving and communities prospering.
FirstGroup is one of Britain's largest bus operators with around a fifth of bus services outside London. A fleet of some 6,300 buses carries approximately 1.7 million passengers a day in a huge number of communities including 40 of the UK's largest towns and cities. We operate some US-style yellow school buses and have a fleet of coaches available for charter. We also operate the Aircoach network in Ireland.