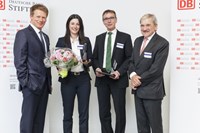 Researcher from Bamberg University wins international logistics prize worth EUR 10,000 - Second DB Schenker Science Day focuses on service engineering
Ever-increasing market pressures and rapidly changing challenges from competitors are forcing logistics providers to augment their portfolio of services. Service engineering, the systematic development of value-added services, will play a major role in the sector's future. How can companies successfully design special additional services for their customers? What approaches are particularly suitable for logistics providers?
In a research paper called "Service Engineering in the Logistics Sector", Dr. Helena Preiß explored a host of forward-looking strategies for analyzing and developing solutions, and her work has won her the 2014 DB Schenker Award. The Deutsche Bahn Foundation oversees the award process, and the winning entry receives EUR 10,000. This prize was presented to Dr. Preiß yesterday at the DB Schenker Science Day event in Frankfurt. The foundation supports a wide range of education-oriented projects and gives outstanding work in the field of academia the recognition it deserves.
Dr. Richard Lutz, Member of the Management Board for Finance and Controlling at Deutsche Bahn AG and a Member of the Advisory Committee of Deutsche Bahn Stiftung GmbH, said, "Value-added services represent an attractive option for growing business as goods require transportation or warehousing by logistics providers one way or another. For customers, having the logistics provider undertake additional work on their products on-site, for example by configuring computers or performing repairs, is simply a practical option. Catering to customers' wishes is of utmost importance, so the sector needs even more new and innovative solutions in this field." Continuing, Dr. Lutz said that the research performed by Dr. Preiß was an impressive demonstration of how "scientific research and insights drawn from real-life working conditions can be used to design tools for developing value-added services. Dr. Preiß' proposals are extremely interesting from a technical viewpoint, and logistics providers can deploy them without making any modifications. It is therefore our very great pleasure to award her the prize."
A further EUR 5,000 was presented to the chair for business administration and supply chain management, overseen by Prof. Alexander Pflaum, at Bamberg's Otto Friedrich University for its role in mentoring and supporting Dr. Preiß' work.
The DB Schenker Award is one of Europe's most prestigious prizes in the logistics sector. The award encourages young academics to undertake research into transportation and logistics that not only attains a level of excellence but also displays a high degree of innovation along with benefiting the environment and society.
Service engineering in the logistics sector
The DB Schenker Award was presented against the backdrop of the second DB Schenker Science Day, which this year was dedicated to the issue of service engineering in the logistics sector. Just like in 2014, the company hosted an interdisciplinary forum that explored the latest research and practical innovations in the field of transportation and logistics. Attendees could sign up for workshops where different issues were discussed in greater detail. For example, Prof. Ulrich Weinberg from the Hasso Plattner Institute in Potsdam took a look at the latest findings regarding design thinking, while Margret Suckale, BASF board member and president of the employers' association in Germany's chemicals sector, gave a talk about the opportunities and challenges that digitalization in the working world entails.
Value-added services at DB Schenker
Customers looking for more than just a transportation provider are well catered for at DB Schenker, which already offers different value-added services for every step of the logistics chain. One of them is the further processing of finished products such as computers and mobile phones prior to their final delivery and sale - for example, DB Schenker undertakes software upgrades, performs tests and installs additional features as per customer instructions. To deliver these and other technical services, DB Schenker Logistics already works with over 3,000 employees worldwide, some of whom are highly specialized in their respective fields.
Another DB Schenker service focuses on logistics for trade shows: As the official logistics provider of Berlin's trade show operator, the company has launched a "last mile" tracking service for heavy consignments (31.5 kg and over), a first in its field. Exhibitors can use this innovative software solution to find out exactly when an expected delivery will arrive at their stand. Previously, delivery tracking could only keep tabs on consignments until the moment they entered the larger show grounds.
DB Schenker has also been working on projects dedicated to developing new value-added services, such as research into the use of 3D printers in spares logistics.
About DB Schenker
DB Schenker stands for the transportation and logistics activities of Deutsche Bahn. The Logistics sector of DB is the world's second largest transportation and logistics services provider based on revenues and performance.