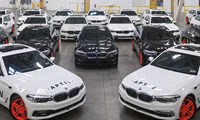 The combination of Aptiv's autonomous driving technology and Lyft's ride-hailing app is the result of a successful partnership that launched in Las Vegas during CES 2018…
As a result of a partnership with Aptiv, 30 autonomous vehicles will be integrated into the Las Vegas Lyft network.
The vehicles will be operated through Aptiv's autonomous driving platform with an opt-in basis enabling passengers to hail a self-driving vehicle to and from high-demand locations. Automated travel is expected to have a significant impact on improving safety, emissions and urban congestion challenges.
The two companies have agreed to a multiyear arrangement in which Aptiv supplies the connected services capabilities, and Lyft experience of ride-hailing. Together this is expected to lead to necessary insights on self-driving operations and management.
"With Aptiv's autonomous driving technology deployed throughout Las Vegas and broadly accessible through the Lyft app, a wide range of consumers will be able to share the experience of autonomous vehicles in a complex urban environment," said Kevin Clark, Aptiv President and Chief Executive Officer. "More importantly, the resulting knowledge and data will allow us to further refine our autonomous driving capabilities and strengthen our portfolio of industry-leading active safety solutions."
The fully automated, point-to-point ride-hailing experience was first demonstrated during the Consumer Electronics Show (CES) 2018 in Las Vegas. This initial pilot provided more than 400 self-driving rides to the public and after completing complex everyday driving challenges, such as highway merges, manoeuvring with pedestrians and cyclists and staying on course while in a tunnel, earned an average customer rating of 4.99 out of five stars. Alike to the CES programme, vehicles will be operated by highly-trained safety drivers.
Unlike other automated vehicles, the automated driving technology can be seamlessly integrated into any design without sensors on the top or sides of the vehicle.
Clarke, at CES 2018, stated autonomous transportation is: "a demonstration of the future of mobility".
Aptiv autonomous vehicles on the Lyft network will be available to the general public in Las Vegas starting 3 May 2018.
About Intelligent Transport
Covering all the new technologies and developments within this vitally important sector, Intelligent Transport provides high-quality analysis across our core topics: Smart Cities, Digitalisation, Intermodality, Ticketing and Payments, Safety and Security, The Passenger, The Fleet, Business Models and Regulation and Legislation. With articles from across the globe, we explore how and why industry decision makers operate the way they do, and examine how technology is changing the dynamics of transport. The expansion in technology is part of the reason we've transitioned from Eurotransport to become Intelligent Transport. We will continue to bring you the latest news and views from industry insiders and experts, but with a global reach that will offer insight on developments and projects from all seven continents.