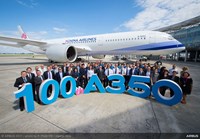 When China Airlines received its seventh A350 XWB today, the carrier took possession of the 100th jetliner delivered from this newest family in Airbus' industry-leading widebody product line.
The milestone aircraft is an A350-900 version, joining China Airlines' growing A350 XWB fleet – adding to the line-up of widebody A330s and A340s flown by the long-time Airbus customer, which is based in Taiwan.
Having now received half of its 14 A350-900s on order, China Airlines is benefitting from the A350 XWB's maturity and flexibility on both regional and long-haul services – including the Taipei-San Francisco route.
Shaping the future of air travel, the A350 XWB is the world's most modern aircraft family, offering true long-range capability, unrivalled operational efficiency and an exclusive passenger experience. To date, more than 13 million passengers have benefitted from the A350 XWB's on-board comfort in the quietest twin-aisle jetliner today, while also enjoying the spaciousness of its "Airspace by Airbus" cabin.
This 100th A350-900 delivery, the 36th so far in 2017, took place some 30 months after first delivery. Not only does this demonstrate a solid production ramp-up, it is the fastest widebody production ramp-up for Airbus – on track to reach rate 10 aircraft per month by the end of 2018.
The A350 XWB is Airbus' all-new mid-size long-range aircraft family. Currently in service with 14 operators worldwide, A350 XWBs are being flown on more than 110 routes around the globe, with an operational reliability of 99%.
As of the end of June, Airbus' A350 XWB family had logged 847 firm orders from 45 customers.
About Airbus
Airbus applies cutting-edge technology and advanced science to support its global customer base with a wide range of flexible service options. The company understands the importance of providing customers with the best-possible solutions, and constantly strives to innovate and implement increasingly efficient methods.