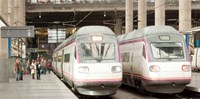 A global survey of approximately 200 senior executives from major rail operators has revealed that most identify asset management facilitated by the integration of Information Technologies (IT) and Operational Technologies (OT), as a key contributor to meeting the financial and operational goals of their organization. Some 88 percent indicated asset management is a priority, and two-thirds believe it has become more important over the last 12 months.

Furthermore, the majority of respondents believe that integration of IT and OT applications would be valuable, in improving the connection of disciplines across the enterprise – a concern identified by 75 percent of respondents. They listed improved safety, increased reliability, better use of capital, more efficient operations and maintenance, increased staff productivity, better visibility across the organization and improved long-term planning as other benefits of IT-OT integration in relation to asset management.

Almost 60 percent say long-term capital planning is a high priority in their asset management efforts, with another quarter saying it is of medium priority. Railway operators could significantly improve such planning if they factored in the health of their existing assets, but in the past that has been a challenge.

"This is an ideal use case for the Internet of Things, Services and People (IoTSP): for example, more sensors and more wireless communications are generating up-to-date information which can be leveraged for asset maintenance and replacement planning" said Massimo Danieli, Managing Director of ABB's Grid Automation business unit within the Power Grids division. "By connecting different systems and stakeholder groups, organizations are able to become more efficient and effective at maintaining their assets, which results in greater reliability for the end-customer as well".

Paul Barnes, special project manager, Route Asset Management Team at Network Rail in the UK, sees asset management as a key strategic initiative. "If I've got thousands of kilometers of track out there, and hundreds of thousands of assets, what do I need to know this morning in order to make it work effectively tomorrow? We've got lots of components, but only limited ability to draw it together in a picture which allows us to do it. And, that's where we see the IT/OT integration bringing us a huge step forward."

For more details on the findings, click here to download the survey report, "IT-OT Convergence - The future of digital railways might hinge on the rise of asset management", which was conducted in collaboration with Microsoft.
About ABB
ABB (www.abb.com) is a leading global technology company in power and automation that enables utility, industry, and transport & infrastructure customers to improve their performance while lowering environmental impact. The ABB Group of companies operates in roughly 100 countries and employs about 135,000 people.