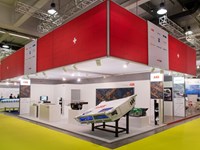 ABB presented solutions and technologies that help public transport organizations achieve their goals of reliable and sustainable city transit at the 2015 UITP World Congress and Exhibition in June. Transport and Infrastructure is one of the three attractive sectors served by ABB, alongside utilities and industry.
The public transport industry came together in Milan on June 8, as the 61st biennial UITP (Union Internationale des Transports Publics/ International Association of Public Transport) World Congress and Exhibition doors opened for three intensive days. Considered the major tradeshow for public transport, around 25,000 visitors – mainly key decision-makers, politicians and public transport authorities – attended looking into ways to integrate sustainable and modern public transport into tomorrow's smart cities.
Rapid urbanization and the need for energy efficiency in transport and infrastructure are both key focus areas in ABB's Next Level strategy. Besides its complete offering for tram and metro applications, ABB plays a vital role in the development of sustainable mobility, providing innovative and efficient technologies for electric vehicle charging infrastructure.
The promising area of e-mobility
The ABB stand showcased both rail and electric bus solutions. ABB's TOSA flash charging electric bus technology was one of the main attractions for curious visitors. Attendees could also see technology that is being developed within a partnership with Volvo Buses for a standardized, connected, scalable automatic fast charging solution for electric and hybrid buses.
Regarding rail solutions, ABB generated a great deal of interest by showing traction technologies that ensure light rail vehicles, metros and trams run reliably all over the world, reaffirming its position as a key supplier for rolling stock manufacturers, infrastructure contractors and operators. On display were the eye-catching air-cooled BORDLINE® CC400 Compact Converter, the BORDLINE® M7 DC auxiliary converter and a traction motor for light rail vehicles, as well as dry-type transformers and inductor technology exhibits. Finally, company experts presented ABB's ENVILINE™ DC wayside traction power solutions to address energy efficiency.
"Economic growth, rapid urbanization and environmental concerns are prompting the development of innovative urban transport solutions," said Jean-Luc Favre, head of ABB's Rail Industry Sector Initiative. "Transportation is a key focus area in ABB's Next Level strategy and part of our ongoing commitment to support sustainable mobility for a better world."
Based at the SwissRail pavilion, ABB showcased both rail and electric bus solutions for public transport at its 45 sqm stand.
On display was the eye-catching air-cooled BORDLINE® CC400 Compact Converter for metro and light rail vehicles.
ABB generated a great deal of interest with its e-mobility solutions: ABB's TOSA flash charging electric bus technology as well as the technology being developed within a partnership with Volvo Buses.
One touch console to allow customers to find out more information about the products.
Meeting with Italian delegation from Parma and Genoa municipalities, who were very interested in TOSA technology.
Meetings and discussions with clients generally continued at the SwissRail restaurant.
The ABB stand was very well attended as customers stopped by to see the sustainable solutions and technologies for the future of urban mobility.
Daniel Simounet, Transportation Market Segment Manager, North America, organized a meeting with a Quebec delegation interested in e-mobility solutions.
Olivier Augé, Global Product Manager for TOSA, was happy to update visitors who he had already met at UITP 2013 in Geneva.
The Quebec delegation, who were also interested in other charging technology, were given a presentation by Gert Miedema, Senior Director, Marketing for ABB Fast Charging Products.
About ABB
ABB is a world leading independent supplier of innovative and reliable technologies to vehicles manufacturers, railway operators and system integrators. With a comprehensive offering for rolling stock and infrastructure as well as FACTS, network management solutions and SCADA systems, ABB also provides lifetime service support, including maintenance and retrofit.
We help to keep the world moving with new sustainable approaches that enable customers to use energy effectively, creating a low carbon railway industry that operates with maximum efficiency and reliability.