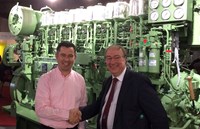 Anglo Belgian Corporation (ABC), one of Europe's leading manufacturers of medium speed engines, announced that it has signed during the Shipping Open Days in Antwerp a contract with shipyard VEKA Group for five 6DZC engines.

During the Shipping Open Days that took place in Antwerp from 18 till 20 March 2016, ABC signed with VEKA Group shipyard a contract for the supply of five 6DZC engines. Shipyard VEKA Group will build for Antwerp-based 'General Bunkering Services nv' (GBS) two new barges. ABC's medium speed and efficient 6DZC diesel engines were chosen for the propulsion of MTS Cavalli and MTS Scarletti. Each of the engines will develop 1500 hp at 800 rpm. The Veka Group bought a fifth 6DZC engine for the 110 meter long MTS Olga Caroline which will be built for a group of investors. This engine will develop 1800 HP at 1000 rpm.

GBS NV is a recognized shipping office, expert in bunkering of seagoing vessels and operator of various cargo ships. In order to continue to occupy a competitive position, GBS plans to further diversify. So far, the company has been concentrating mainly on transporting fuel oil and gas oil. The new vessels are ideally suited for the transport of other goods, including various other mineral oils and chemicals. A new market will open and with the brand new vessels, GBS looks ahead for the future.

Erik Vermeylen, Managing Director of General Bunkering Services nv, spoke: "Over the years GBS has always had great attention to innovation. To strengthen our position, we invest in two new vessels that allow us to be competitive in a wider market. For the estuary shipping we want absolute reliability. The total operating costs, maintenance intervals, fuel and lube oil consumption were also very important criteria in the choice of ABC's reliable, medium speed engines.

Stefhan van den Hil, Purchase Manager at Veka Group, declared: "VEKA Group is a distinctive Dutch shipbuilder that has become an international player in the maritime industry in its 25 years of existence. Today we operate in diversified nautical markets and deliver a wide range of specialized vessels. At our shipyards in the Netherlands and abroad we have experience in building high quality vessels. Always cost efficient, with passion and using in-house knowhow. It's from that perspective that the ABC engines perfectly fit our vision."

Jean-Pierre Props, Area Sales Manager at ABC, said: "With the sale of these 6DZC engines to power three new vessels, ABC reaffirms its expertise in inland barges. We therefore wish to thank everyone for their confidence in our products."
About ABC - Anglo Belgian Corporation
Anglo Belgian Corporation with headquarters in Gent, Belgium has almost a century of engine-building expertise. The company was founded in 1912 by a group of Belgian entrepreneurs soon after building the first licensed Rudolf Diesel engine.
Continued innovations have made Anglo Belgian Corporation one of the important manufacturers of Diesel, HFO and dual-fueled medium speed engines, as well as generator sets for today's global energy industry. Anglo Belgian Corporation remains committed to develop more efficient engines which deliver more power and use less fuel while significantly reducing emissions.
A growing installed base provides references in more than 120 countries, supported by factory-certified service technicians available all over the world.