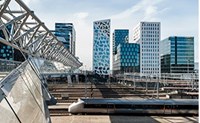 Flytoget, the Oslo airport express train operator has just installed Access-IS barcode readers as part of its digital transformation program which aims to deliver an enhanced customer experience. The Access-IS LSR116 OEM 2D barcode reader has been integrated by Xerox into fare gates at stations along the airport express route. This line moves passengers from Oslo Airport to the centre of Oslo in 19 minutes and then on a further 50 kilometres to Drammen.
The installation of the LSR116 forms part of a major upgrade to the ticketing environment which is designed to support Flytoget's mobile ticketing initiative. Its aim is to provide a seamless multi-modal travel environment with rail being the preferred mode of transport to and from the airport. The initiative has already achieved an adoption rate of over 15% in the 10 months since it was launched and is growing day by day as new features are added to the mobile iOS and Android apps.
Access-IS helps Flytoget deliver seamless ticketingMobile ticketing delivers real benefits to passengers on many levels. From the Flytoget app passengers can see all departures in real time, allowing them to see when the next train is due and to plan their journey. Tickets can be purchased from the app and received directly to the passenger's phone, avoiding the need to spend unnecessary time buying them on the platform. Not only does this deliver a seamless passenger experience, it also removes the need to print paper tickets allowing for significant environmental and cost savings.
Of critical importance to all railway stations is the ability to process passengers efficiently and reliably. The LSR116 is able to read tickets, with almost zero latency and in any orientation, from smartphones, watches, tablets and paper. This ability simplifies the ticket reading process regardless of the device passengers are using, and by doing so, passenger throughput is optimised and queues are minimised.
Designed for easy OEM installation; the compact, sealed and water resistant LSR116 has a simple plug-in design, using just a single bracket, enabling it to be quickly and cost-effectively integrated into the Xerox fare gates.
The LSR116 is installed in thousands of locations around the globe, including railway stations, airports, car parks and stadia and is part of a family of trusted products that includes the LSR118. This adds NFC functionality to the mix, further extending the device's capabilities to include contactless ticketing.
About Access-IS
Access-IS is at the forefront of the development of innovative electronic systems specialising in image processing, RFID/NFC technology, barcode reading and specialist keyboards. Access-IS are dedicated to manufacturing products designed to accurately capture and transfer information into electronic systems.
Operating in over 72 countries around the globe in three highly specialised verticals; Airline/Airport, Identity & Security and Transport & Ticketing. In addition to our specialist custom keyboards, which are now the 'de-facto' standard for some of the largest banks, airlines and retailers in the world, the product range includes boarding gate readers, a wide range of document readers for ID document and age verification and paper and electronic ticket readers for ground transport and access control.
Transport & Ticketing - Supplying rugged, fast and reliable barcode and RFID/NFC readers for self-service data capture applications Access-IS products include; ticket readers and validators for public transport systems, events and stadia, car parking as well as a host of other applications.
Accredited to ISO9001:2008 and with a track record stretching back 30 years, Access-IS continues to guarantee the highest standards of design and quality with its dedicated Research and Development team based in the UK and the vast majority of its products manufactured in the UK with only the highest quality materials and techniques.