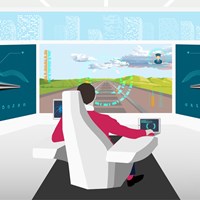 ACTIA TELECOM* is a technical partner in the TC-Rail (Remote Train Operation) project.
This project, launched by the SNCF, is a consortium of industrial and academic competencies. The SNCF, the Railenium Railway Institute for Technological Research (IRT), Thales, ACTIA Telecom and the CNES officially kicked off the project at the end of 2017. TC-Rail aims to demonstrate the possibility of a remote driver operating a train while retaining a very high level of safety. Remote operation is a key building block for future driverless trains. It will enable trains to be controlled remotely in certain downgraded modes. It relies on the communication between a train and a remote facility, and the development of a remotely operational Human-Machine Interface (HMI).
TC-Rail will demonstrate the possibility of operating a train with a remote driver as early as 2019.
The five partners intend to set up two demonstrators to operate a train from a remote facility. The SNCF expects to build a demonstrator to be used for the first time at the start of 2019. However, the plan is to adapt remote train operation to a broad range of uses. Trains could be shunted to and from maintenance centres through remote operation.
The project involves a dynamic sector as well as recognised and innovative industrial players.
The SNCF will be in charge of coordinating technical aspects and demonstration packages to evaluate the different developments during the project in real conditions,
Railenium will manage the collaborative part of the project and will rely on its own competencies and those of researchers from its academic partners (IFSTTAR laboratories, UTC and the Universities of Lille 1 and Valenciennes) to cover the development of the remote train operation HMI, land telecommunications, safety demonstrations and cybersecurity.
Thales, as part of its innovative activities on autonomous trains, will be supplying its expertise in train-to-ground telecommunications, as well as in reliability, availability, maintainability and safety, and cybersecurity, ACTIA Telecom will be contributing its know-how in satellite telecommunications and embedded rail systems. Finally, the CNES will provide technical expertise and support in the field of satellite systems.
*ACTIA Group Telecommunications Division
About ACTIA
Invested in innovating technology and cutting edge manufacturing, ACTIA has committed to challenges in areas which are becoming more and more demanding. This commitment is ACTIA's trademark. An essential component in the company's spirit and the group's entrepreneurial spirit is being a team player while respecting each other.