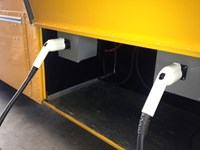 ADOMANI Inc. (www.adomanielectric.com), a provider of complete zero emissions vehicle solutions, is pleased to announce their appointment as an authorized Factory Representative in California for the Type A, Type C and Type D all-electric school buses by Canada-based GreenPower Motor Company Inc.
ADOMANI will be leveraging GreenPower Motor Company's expertise in developing and manufacturing a range of all-electric buses to supply increasing demand for clean powered transit solutions that are capable of fulfilling California emissions targets and stringent performance needs.
ADOMANI will bring 50 GreenPower zero emission school buses into the state in 2016 and an additional 100 in 2017. The arrangement between ADOMANI and GreenPower allows for additional bus sales in the future and the opportunity to expand into new states.
"California school districts are increasingly looking to replace traditional diesel-powered buses with zero emission vehicles that impact fuel costs, maintenance needs and community health. Having the opportunity to provide new, purpose-built all-electric school buses from a premier manufacturer like GreenPower will allow us to increase our ability to scale deployment and serve this growing market," said Jim Reynolds, CEO of ADOMANI, and a 14-year veteran in the school, commercial and transit bus industry.
Fraser Atkinson, Chairman of GreenPower, added, "We were impressed by technology-driven ADOMANI and how it has carved out a market in the all-electric vehicle space as well as the electric hybrid arena, and look forward to partnering with them to increase the deployment in California of zero emission school buses. This line of all-electric school buses, with a range of more than 100 miles on a single charge, is an ideal fit for this market."
Through this partnership between ADOMANI and GreenPower, both parties will take an active role in the opportunity to speed the deployment of clean fleets of all electric school buses. This will not only ensure benefits such as reduced maintenance costs, but also enhance the health of children—including many in disadvantaged communities—and significantly reducing emissions of greenhouse gases (GHG), particulate matter (PM), and nitrogen oxides (NOx).
About ADOMANI, Inc.
California-based ADOMANI, Inc. provides school bus and fleet operators with complete zero emission vehicles and plug-in hybrid solutions. ADOMANI brings together proven electric drivetrain technology, customized products, and trusted service partners to cut total cost of ownership, boost vehicle reliability, and unlock the many benefits of green technology. For more information, visit www.adomanielectric.com.
About GreenPower Motor Company Inc.
GreenPower Motor Company Inc. develops electric powered vehicles for commercial markets. GreenPower offers a range of electric powered buses deploying electric drive and battery technologies with a lightweight chassis and low floor or high floor body. GreenPower's bus is based on a flexible clean sheet design and utilizes a custom battery management system and a proprietary Flex Power system for the drive motors. GreenPower integrates global suppliers for key components such as Siemens for the two drive motors, Knorr for the brakes, ZF for the axles and Parker for the dash and control systems. This OEM platform allows GreenPower to meet the specifications of various operators while providing standard parts for ease of maintenance and accessibility for warranty requirements. For further information go to www.greenpowerbus.com