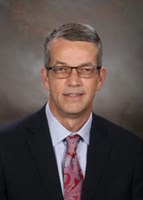 AECOM, a premier, fully integrated global infrastructure firm, announced today that Mark Whitney, a nuclear industry veteran, has been appointed general manager and executive vice president of AECOM's nuclear and environment strategic business unit. This appointment follows the retirement of Dr. Todd Wright from this position and is effective Aug. 27, 2018.
"Mark Whitney's experience as our nuclear and environment chief operating officer and his previous role with the U.S. Department of Energy (DOE) will allow us to continue the strong momentum we have developed in the government and commercial nuclear market. This appointment will position us for further growth in the nuclear market," said John Vollmer, president of AECOM's Management Services group.
In his new role, Mr. Whitney will lead nuclear and environment day-to-day operations; manage profit and loss, strategic initiatives and business development activities; and oversee administrative and operations support functions for AECOM's work with the U.S. DOE, the U.K. Nuclear Decommissioning Authority and other international government and commercial clients.
He has 20 years' experience in leadership roles for the U.S. Department of Energy and National Nuclear Security Administration, in both government and the private sector. Prior to joining AECOM, Mr. Whitney was a member of the U.S. Senior Executive Service with the DOE, serving in a variety of leadership positions, most recently as the Principal Deputy Assistant Secretary for DOE's Office of Environmental Management. Before that, Mr. Whitney served as the acting Assistant Secretary for Environmental Management and the Manager of Environmental Management's Oak Ridge Office.
Within the DOE's National Nuclear Security Administration, he was the acting Principal Assistant Deputy Administrator for Defense Nuclear Nonproliferation, where he oversaw the operations of the Department's global nuclear security and nonproliferation programs, and Assistant Deputy Administrator for Nonproliferation and International Security.
Mr. Whitney holds a Bachelor of Arts degree and a Masters of Business Administration in Finance & Investments from George Washington University and is a graduate of the DOE's Nuclear Executive Leadership Training Program.
Mr. Whitney is a recipient of the U.S. State Department's Superior Honor Award for global leadership in nonproliferation and nuclear security and received the Presidential Rank Award for sustained accomplishment as a U.S. Government Senior Executive.
About AECOM
AECOM is built to deliver a better world. We design, build, finance and operate infrastructure assets for governments, businesses and organizations in more than 150 countries. As a fully integrated firm, we connect knowledge and experience across our global network of experts to help clients solve their most complex challenges. From high-performance buildings and infrastructure, to resilient communities and environments, to stable and secure nations, our work is transformative, differentiated and vital. A Fortune 500 firm, AECOM had revenue of approximately $18.2 billion during fiscal year 2017.