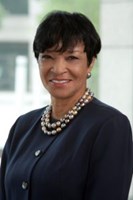 AECOM, a premier, fully integrated global infrastructure firm, announced today that Carolyn Flowers, the former head of the Federal Transit Administration, will lead the firm's industry leading transit practice in North America. For the past 14 years, AECOM has been nationally ranked No. 1 in the transportation industry by Engineering News-Record magazine.
"I'm tremendously excited about pursuing my career in public transportation on the private sector side of the table," Ms. Flowers commented. "AECOM's presence in the industry is widely known and respected and I'm looking forward to leading its continuing efforts to provide its transit industry clients with creative, thoughtful and successful solutions to the challenges they face."
"Carolyn brings a breadth of understanding and experience to this position that will provide our clients with industry-leading insight into the challenges facing public transportation, and solutions that will help them meet the challenges they face throughout North America," said Fred Werner, president, design and consulting services. "Most importantly she brings a unique understanding of client needs and stakeholder expectations in the areas of policy, public-private partnerships and creative collaboration among various stakeholders and the business community. We are excited that her leadership, experience and expertise will help AECOM continue to help our clients shape and deliver better communities and transit systems for the future."
"Anyone who has had the privilege of working with Carolyn understands she brings an integrity and clarity of purpose that has furthered the cause of public transportation throughout the country," said Matt Cummings, executive vice president for transportation in the Americas. "Public transportation is about improving the quality of life, the economy and the mobility of those communities it serves. No one is better suited to lead AECOM's effort to deliver on that promise for our clients."
Most recently Carolyn served as Acting Administrator in the U.S. Department of Transportation's (DOT) Federal Transit Administration (FTA). Prior to joining FTA, she served as chief executive officer/director of public transit for the Charlotte Area Transit System, where she was responsible for countywide bus and rail transit planning and management. She began her career in public transportation with the Los Angeles County Metropolitan Transportation Authority (LACMTA) in 1993 and for 19 years served in many capacities in budget, administration and operations at LACMTA, culminating in her appointment as Chief Operations Officer for one of the largest public transit agencies in America.
She has served on a number of professional boards, including co-chairing the American Public Transportation Association's (APTA) Reauthorization Task Force, and has received a number of awards for her commitment to advancing public transportation nationwide. She also has been active in the Conference of Minority Transportation Officials (COMTO) and the Women's Transportation Seminar (WTS). Ms. Flowers is a graduate of the University of California Los Angeles (B.S. and MBA).
About AECOM
AECOM is built to deliver a better world. We design, build, finance and operate infrastructure assets for governments, businesses and organizations in more than 150 countries. As a fully integrated firm, we connect knowledge and experience across our global network of experts to help clients solve their most complex challenges. From high-performance buildings and infrastructure, to resilient communities and environments, to stable and secure nations, our work is transformative, differentiated and vital. A Fortune 500 firm, AECOM had revenue of approximately $17.4 billion during fiscal year 2016.