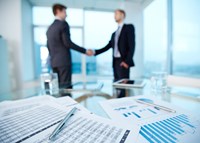 2getthere, a pioneer and worldwide market leader in autonomous passenger vehicles and automated people mover solutions, today announced they have signed a long-term agreement with Oceaneering International, Inc. ("Oceaneering") (NYSE: OII) headquartered in Houston, Texas.
This agreement will combine the expertise and capabilities of these two companies to collaborate in the design, development and advancement of automated people-mover systems serving the U.S. markets and Entertainment venues worldwide. Leading the efforts for Oceaneering will be a division of its Advanced Technologies business segment, Oceaneering Entertainment Systems ("OES"). The agreement combines the key strategic strengths of both companies, utilizing Oceaneering's engineering, production, and market expertise with 2getthere's proven automated vehicle systems, design and their time-proven navigation and traffic management software expertise.
This arrangement will introduce 2getthere's autonomous vehicle technologies to the rapidly expanding theme park and entertainment markets around the world, building on the strong relationships that have been developed with OES over the past 12 years. These people-mover systems are ideally suited for the significant transportation solutions that are required at these large venues, allowing for the safe, efficient and cost-effective movement of resort guests. By providing flexible point-to-point inter-connections from auto parking areas, public transit nodes, and nearby hotels to, in, and around these often massive resort complexes, AGVs have become increasingly attractive to owner-operators around the globe.
2getthere and Oceaneering are building upon a long period of successful cooperation. The companies collaborated on several early concept and schematic designs for some large-scale people mover systems in several U.S. states beginning as early as 2004. While none of those were ever realized, the companies both recognized the huge potential of these systems, and the mutual success of their collaborations. That success continued when 2getthere assisted FROG AGV, another Utrecht-based company later purchased by Oceaneering, with the first implementation of Oceaneering's award-winning REVOLUTION™ Tru-Trackless™ ride system at Sea World Orlando in 2012. REVOLUTION uses the same base navigation technologies as the 2getthere people-mover systems. Most recently, in 2016, the companies joined again to deliver a large-scale people-mover system in a high-profile theme park attraction in the US.
2getthere has built an impressive body of IP in the field of vehicle controls, supervisory and wayside control systems, and sensor technologies. These developments make 2getthere a world leader in autonomous vehicles and people mover systems, having delivered successful projects in Europe and the Middle East. The company currently has new projects under contract at Bluewaters Island (Dubai, UAE) and business park Rivium (Capelle aan den IJssel, the Netherlands) and is involved closely in several genesis projects in the USA.
OES is a market leading supplier of theme park dark ride vehicle systems, custom show equipment, and specialty show systems and controls. The Themed Entertainment Association awarded their coveted THEA award for Breakthrough Technology to OES for developing the REVOLUTION Tru-Trackless Dark Ride System in 2012. Oceaneering supports a wide array of industries, delivering custom solutions to solve unique and complex challenges worldwide. Oceaneering brings extensive capabilities in engineering, production, vehicle assembly and testing, deployment and commissioning, as well as industry and market expertise globally in the Theme Park and Entertainment segments. They are able to leverage expertise from many diverse industries, from deep-water ROVs to Space Systems to unique military applications, with particular emphasis on safety, maintainability and reliability engineering.
Strategic Importance
According to Carel van Helsdingen, CEO of 2getthere, this agreement acknowledges the leading position his company's technology currently has in the field of autonomous driving and transport systems. "For an industry-leading company like Oceaneering, who are intimately familiar with automated vehicle technology for their trackless rides, to enter into an agreement with us to work together on the delivery of projects in their market is a testament to our systems. For us, this is an affirmation of our market-leading position in the area of autonomous vehicles."
The agreement is of great strategic importance for 2getthere, as it enables the company to further penetrate into the market of automated people movers at entertainment venues world-wide, and also into large-scale campus and public transportation systems within the US. "OES has extensive knowledge in this sector and understands perfectly the demand of its customers." Van Helsdingen also noted the key factor of Oceaneering's significant U.S.-based manufacturing capabilities in serving the U.S. markets.
About 2getthere
2getthere realizes Automated Transit Systems for Smart Cities. The technology is based on 25+ years of experience with automated vehicles in various demanding environments. Depending on the requirements and configuration of the application, 2getthere's driverless vehicles can used to realize Automated People Mover Systems, Automated Transit Networks and Shared Autonomous Vehicles.