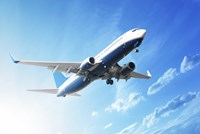 Air Canada today broke ground on a new $90-million aircraft hangar project at Toronto Pearson Airport that will support the airline's ongoing expansion of its Toronto global hub. Once complete, the new Hangar 5 building will cover an area equal to seven professional hockey rinks and accommodate five aircraft at one time.
"Air Canada is demonstrating its commitment to international expansion at its Toronto global hub by investing $90-million on this project to create a new hangar. We have grown our Toronto operations by more than 50 per cent since 2009. This building, our second major construction project in the Greater Toronto Area following the opening of a new $60-million operations centre in Brampton in 2013, will support Air Canada's future growth by giving us state-of-the-art maintenance, storage and training facilities in an environmentally-friendly structure," said Benjamin Smith, President, Passenger Airlines at Air Canada.
Once completed in April 2018, Hangar 5 will cover more than 127,000 square feet under a 77-foot high ceiling formed by the largest uninterrupted commercial hangar span in Canada. At capacity, it will be able to accommodate up to 3 wide body and 2 narrow body aircraft. Other features of the new hangar include:
Environmentally friendly features such as LED lighting on the interior and exterior of the building, "light harvesting" using sidewall panels that let in exterior light, radiant heating, and a new high-efficiency hangar door design.
The hangar door consists of six leaves, each approximately 75 feet high and wide, that open at the rate of 60 feet per minute. The door will feature an iris, which is an aperture that allows part of the aircraft fuselage to protrude outside the hangar with the remainder of the aircraft inside the hangar when the door is closed. The iris optimizes the use of space by allowing placement of a third wide-body aircraft in the facility and increases the building's overall energy efficiency.
There will be approximately 150 work locations within the hangar office space area. On the floor, there will be five separate aircraft positions where technicians and storekeepers will work. The hangar also has multiple training classrooms able to accommodate 200 people and a cafeteria for 100 people.
About Air Canada
Air Canada is Canada's largest domestic and international airline serving more than 200 airports on six continents. Canada's flag carrier is among the 20 largest airlines in the world and in 2015 served more than 41 million customers. Air Canada provides scheduled passenger service directly to 64 airports in Canada, 54 in the United States and 87 in Europe, the Middle East, Africa, Asia, Australia, the Caribbean, Mexico, Central America and South America. Air Canada is a founding member of Star Alliance, the world's most comprehensive air transportation network serving 1,330 airports in 192 countries. Air Canada is the only international network carrier in North America to receive a Four-Star ranking according to independent U.K. research firm Skytrax. For more information, please visit: www.aircanada.com, follow @AirCanada on Twitter and join Air Canada on Facebook.