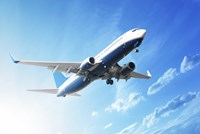 Air Canada today announced that it has signed agreements with three of its business partners that will help support the creation of a Western Canada Centre of Excellence for aircraft maintenance activities in the province of Manitoba.
"Air Canada is supporting the aviation sector in Manitoba by helping key suppliers establish a Western Canada Center of Excellence for aircraft maintenance in the province. We are already one of the province's largest employers, with more than 725 jobs, and we believe we can assist in further strengthening the industry in Manitoba, in cooperation with the provincial government, by leveraging our relationships with valued suppliers and business partners," said Kevin Howlett, Senior Vice President, Regional Markets and Government Relations at Air Canada.
Air Canada and the Government of Manitoba have settled outstanding litigation relating to Air Canada's maintenance obligations under the Air Canada Public Participation Act. Moreover, Air Canada is supporting the establishment of operations in Manitoba of three of its suppliers and partners with unique expertise and capabilities:
Hope Aero Propeller & Components Inc., one of Air Canada's suppliers, which specializes in propellers, wheels, brakes and batteries;
Airbase Services Inc., one of Air Canada's suppliers, which specializes in aircraft interior equipment repair and maintenance; and
Cargojet Airways Ltd., one of Air Canada's cargo partners, which will establish its own repair and maintenance activities.
Start up for all three is expected to commence in 2017.
These initiatives follow Air Canada's announcement in February, 2016 to help support the development of Centres of Excellence for aircraft maintenance in the provinces of Manitoba and Quebec.
About Air Canada
Air Canada is Canada's largest domestic and international airline serving more than 200 airports on six continents. Canada's flag carrier is among the 20 largest airlines in the world and in 2015 served more than 41 million customers. Air Canada provides scheduled passenger service directly to 63 airports in Canada, 56 in the United States and 86 in Europe, the Middle East, Africa, Asia, Australia, the Caribbean, Mexico, Central America and South America. Air Canada is a founding member of Star Alliance, the world's most comprehensive air transportation network serving 1,330 airports in 192 countries. Air Canada is the only international network carrier in North America to receive a Four-Star ranking according to independent U.K. research firm Skytrax.