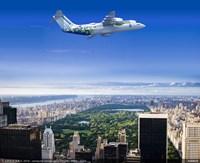 The E-Fan X is the flagship hybrid-electric aircraft demonstrator at Airbus. But its predecessor the all-electric twin-propeller aircraft E-Fan 1.0 can be credited for playing a key role in laying the groundwork for the next generation of zero-emission aircraft technology.
On 9 July 2015, the world of aviation witnessed a remarkable milestone. At the Lydd Airport on the south-east coast of England, a twin-propeller aircraft was preparing to embark on an important journey. Its destination? The Calais-Dunkerque Airport—just over 74 km away by air.
Less than an hour later (36 minutes to be exact), the aircraft—known as E-Fan—landed safely in Calais, France. But the E-Fan was no ordinary aircraft: it was powered solely by lithium-ion batteries. As a result, the E-Fan became one of the first all-electric aircraft to successfully cross the English Channel. It also paved the way for the next generation of electric-powered and zero-emission aircraft technology at Airbus.
The original E-Fan has now been retired and is currently on display at the Aeroscopia Museum in Toulouse, France. But thanks to the lessons learned from the E-Fan 1.0 project, a new aircraft demonstrator has emerged: the E-Fan X. This hybrid-electric aircraft demonstrator is 30 times more powerful than its predecessor. With the E-Fan X, zero-emission flight takes a giant leap forward.
Read the full article here.
About Airbus

As a proven leader in the global aerospace sector, Airbus designs, produces and delivers innovative solutions with the aim to create a better-connected, safer and more prosperous world. These cutting-edge products and services – which span the commercial aircraft, helicopter, defence, security and space segments – benefit from our wide-ranging expertise and continued emphasis on innovation.