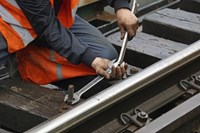 Akiem, the European leader in locomotive leasing, has acquired German company mgw Service, a major independent player in electric and diesel locomotive maintenance in Europe.
The transaction covers the entire share capital of mgw Service and was signed at the end of 2016 by Antje Wallraff and Klaus Weiss, the founding partners and heads of mgw Service, and Fabien Rochefort, Chief Executive Officer of Akiem.
mgw Service provides preventive and corrective maintenance for locomotives on behalf of rail freight and passenger operators. The headquarters of the 70-strong company is based in Kassel (Hesse State). It operates mainly in Germany from its own workshop in Krefeld (North Rhine-Westphalia State) and in Sweden (Hallsberg, Orebro County), but also in Switzerland, Italy and Poland. mgw Service possesses the skills, equipment and spare-part logistics required to cover an extensive range of electric and diesel locomotives. It generated estimated 2016 revenue of close to €20 million from a broad portfolio of private and incumbent operators.
This external growth transaction is part of Akiem's programme to accelerate its expansion in Europe and step up its investment in new locomotive fleets capable of serving from Germany to Central Europe, Sweden, the North Sea area, and Italy. This will enable Akiem to reinforce its leasing with maintenance offering. mgw Service's current managerial team will remain in place and the company will continue to operate under the name mgw Service. The complementary leasing and maintenance activities will enable Akiem and its subsidiary, mgw Service, to expand their networks and broaden the nature and level of performance of the services they provide to European operators.
"We are extremely satisfied with this transaction, which gives mgw Service the support of a European leader like Akiem. Our company's growth is now assured by once again expanding our European base so that we can serve all our customers with ever more dedication and commitment," said Klaus Weiß, CEO of mgw Service.
Fabien Rochefort, CEO of Akiem, said: "For Akiem, this acquisition is a significant step forward for our expansion in Europe. Akiem is determined to support and develop mgw Service and the synergies with our leasing business. The high professional standards and quality of service offered by both Akiem and mgw Service will enable us to offer our customers new services and provide better solutions for prospective customers in Europe."
Signed on 28 December 2016, the acquisition should come into force following the decision of the European competition authorities, which is expected for the end of the first quarter of 2017.
About Akiem
Akiem is a leader in locomotive leasing in Europe. The company's fleet of over 360 electric and diesel locomotives provides its customers with rail traction solutions that cover equipment financing through to maintenance. Akiem operates in several European countries, with staff based in France, Germany and Poland.
About mgw Service
mgw Service GmbH & Co. KG provides services in the maintenance of electric and diesel locomotives. The company's main expertise is the preventive and corrective maintenance of rail vehicles. In Germany, mgw has a workshop in Krefeld (BBW-Krefeld) that is equipped to carry out heavy maintenance and wheelset turning. mgw service uses also sites in Switzerland, Sweden, Poland and Italy.