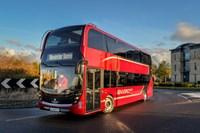 At the Advanced Clean Technology Expo, two industry leaders announced a collaboration aimed at bolstering the electrification of transit buses. Allison Transmission, a global leader in commercial-duty propulsion solutions, and Alexander Dennis, one of the world's leading bus and coach builders, are working together to develop efficient, powerful electric buses.
A first step in this strategic alliance is Allison's new ABE Series electric powertrain systems for low-floor bus applications, which will premiere with the Foothill Transit launch order for Alexander Dennis' interurban and commuter Enviro500 3-axle double decker buses in North America. The buses, which have the same footprint as a conventional single-decker bus, can carry up to 86 seated passengers, and provide superior handling and a quiet and smooth zero-emission ride.
"Allison has a long history with the bus and transit market utilizing our electric hybrid system. This is the next evolution of electrification in this market, and we are pleased to meet the needs and expectations of our customers," said David S. Graziosi, Allison Transmission, President and CEO.
"We are delighted to collaborate with Allison on our first electric double decker order in North America for Foothill Transit," said Robert Davey, President, Alexander Dennis. "As the world's largest double decker bus manufacturer, we see an increasing demand for electric buses, which combines the same high-passenger capacity and outstanding comfort that our vehicles are renowned for, with zero-emission technology. Partnering with Allison, and leveraging their technology expertise, is helping us achieve this goal."
About Allison Transmission
Allison Transmission (NYSE: ALSN) is the world's largest manufacturer of fully automatic transmissions for medium- and heavy-duty commercial vehicles. Allison transmissions are used in a variety of applications including refuse, construction, fire, distribution, bus, motorhomes, defense and energy. Founded in 1915, the company is headquartered in Indianapolis, Indiana, USA and employs approximately 2,900 people worldwide. With a market presence in more than 80 countries, Allison has regional headquarters in the Netherlands, China and Brazil with manufacturing facilities in the U.S., Hungary and India. Allison also has approximately 1,400 independent distributor and dealer locations worldwide. For more information, visit allisontransmission.com.
About Alexander Dennis
Alexander Dennis Inc. (ADI), Alexander Dennis Canada Inc. (ADCI) and Alexander Dennis Mexico, S.A. de CV (ADMX) form the North American division of Alexander Dennis Limited (ADL), the world's largest double decker manufacturer. ADL's North American division dates back to 2005 when ADI was formed. ADL has a history and heritage of design, engineering and manufacturing excellence that spans more than a century with offices in UK, Europe, Hong Kong, Singapore, Malaysia, New Zealand, Mexico, USA and Canada. For more information, visit alexander-dennis.com.