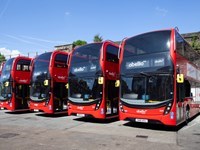 The strategic alliance between transport operator Abellio and bus manufacturer Alexander Dennis Limited (ADL) goes from strength to strength with a further 16 new Enviro400H double deck hybrid buses going into service in London this month.
The new hybrid buses will boost the Abellio London fleet towards the 800-vehicle mark, with 85% of those made by ADL. Business between the two companies now totals over £100m since 2011.
The transport group, which is owned by Dutch railway operator Nederlandse Spoorwegen and has bus and rail operations in Germany and the United Kingdom, clearly recognises the vital importance of developing business partnerships that deliver for all parties.
"Strategic partnerships are critical to our success," says Alan Pilbeam, Chief Operating Officer and Deputy Managing Director of Abellio UK. "We need partners who are on the same wavelength, who can deliver products that are fuel-efficient, reliable as well as environmentally friendly, and who walk the talk in terms of price and aftermarket support."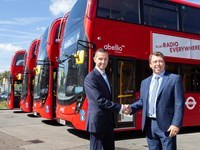 "On all of these fronts, ADL has been with us every step of the way and has played a huge part in the expansion of our UK fleet by over 50% in the last few years. ADL shares our values in terms of putting customers first, backing promises with actions and delivering the low-emission products of today – while investing in the technology of tomorrow."
Arthur Whiteside, ADL's Managing Director UK Sales, says: "It has been a pleasure working with Alan and his team at Abellio as they have driven their business to a new level in recent years. They are at the forefront of strategic partnerships, taking the whole concept of operator-supplier relationships to a new level. Working hand in glove and understanding the wants and needs of customers is a critical part of the business equation and one we never lose sight of at ADL."
Jon Eardley, Engineering Director for Abellio UK Bus, comments: "We have an open and honest relationship with ADL and that has been central to the success of our combined efforts. We set clearly defined targets, review performance regularly and address issues head-on. In short, we have high expectations at Abellio and ADL has stepped up to the challenge, all of which encourages consolidation around their product range."
About Alexander Dennis Limited
Alexander Dennis Limited (ADL) is one of the world's leading bus and coach builders with a history and heritage of design, engineering and manufacturing excellence that spans more than a century with offices in UK, USA, Canada, Mexico, Europe, Hong Kong, Singapore, Malaysia and New Zealand. As a pioneer in embracing the latest technology, ADL has brought the widest range of low and zero emission buses to market. The group is now recognised as the leading bus and coach manufacturer in the UK and one of the fastest growing bus and coach builders in Western Europe.
They employ over 2,400 people worldwide and have more than tripled their revenue in the last 10 years, with an increasing proportion resulting from our expanding international footprint. This growth is attributable to their clear strategic focus – delivering lightweight, fuel efficient vehicles with industry-leading reliability, lowest cost of ownership and world class aftermarket support.