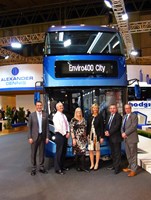 The Alexander Dennis Limited (ADL) stand at Euro Bus Expo 2016 was a fitting location for Jane Cole, Managing Director of Blackpool Transport, and her team to finalise the order for an additional 25 ADL Enviro400 City double deck buses.
The first ten Enviro400 City vehicles have been in service on the town's high profile Palladium route since July. These were developed to a unique Blackpool Transport specification as a result of a close collaborative partnership between the transport authority and ADL, which started at the Bus and Coach Live show at the NEC in 2015. The new order fulfils Jane's commitment to add 25 more Enviro400 City vehicles to the fleet if the introduction of the first vehicles was successful from an operational and passenger perspective.
Jane Cole commented "We have been delighted with our Enviro400 City vehicles already in service and have received fantastic feedback from locals and visitors alike. This is echoed by our own team with great praise from drivers to service technicians, and we are pleased that Christine Wright, Chair of Blackpool Council, has given her own seal of approval to the ADL vehicles. We are particularly proud of having responded to the needs of our disabled passengers who appreciate the low floor entry, wide access gangway and spacious wheelchair areas."
Bob Mason, Service Delivery Director at Blackpool Transport, added "The vehicles deliver a great customer experience with modern features such as Wi-Fi, USB charging points, audio and visual next stop customer announcements, e-leather seating and wood effect flooring. We are also getting very good MPG from these buses."
The 25 newly ordered vehicles will run on route 14 and have a social seating configuration to the ones already in operation, while still maintaining the strong styling, glazed stairwell, SkyView wrap-over rear window and individual USB charging points which have been greatly praised by passengers. Social seating with seats grouped around three tables in the upper saloon will provide passengers with space for working and studying along with centrally sited USB charging points to improve connectivity. This layout makes travel time more productive or sociable for the younger generation of passengers on their way to and from the schools and university which route 14 serves. It is also intended to increase ridership amongst other passenger segments including families and groups of friends.
Referencing the initial order, Jane commented, "We wanted to do more than buy a bus. We wanted a partner willing to become intrinsically linked to us, joined at the hip, if you like, a partner that understands our ethos and our objective of genuinely bringing a team approach to the whole task of providing tailor-made public transport solutions."
Blackpool Transport is a truly visionary operator focused on delivering the ambitious goal of transforming the entire fleet of 130 buses serving Blackpool, Wyre and the Fylde Coast. Jane secured a multi-million pound investment from Blackpool Council, the transport authority's sole shareholder, to revitalise the whole bus fleet over a 5 year period.
Colin Robertson, Chief Executive of ADL, commented "This is a superb example of what can be achieved by two like-minded organisations committed to a philosophy of inclusive management and progressive partnerships that can make a difference to operators, passengers, visitors to and inhabitants of Blackpool. What Jane Cole and her team have achieved takes passenger-centric transport to a whole new level and we are proud to partner with them on this journey."
About Alexander Dennis Limited
Alexander Dennis Limited (ADL) is the UK's leading bus and coach manufacturer, employing around 2,000 people at facilities in the UK, continental Asia and North America.
The fastest growing bus and coach builder in Western Europe, ADL encompasses three famous and successful marques – Alexander, Dennis and Plaxton.
ADL produces a wide range of innovative and fuel efficient, low floor single and double deck buses, plus a full portfolio of coaches, welfare and mini vehicles.
ADL products offer real operator, passenger and environment benefits, all backed by an unswerving commitment to world class customer support.