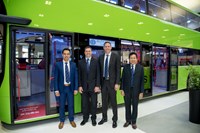 Alexander Dennis Limited's Enviro500 full flat floor, 3 door, 2 staircase double deck stole the show at the LTA-UITP Singapore International Transport Congress and Exhibition (SITCE) in Suntec City, Singapore from 19 – 21 October 2016.
The Enviro500 concept bus, commissioned by the Land Transport Authority (LTA), is the result of close collaboration between the transport agency and Alexander Dennis Limited (ADL), the world's largest double deck bus manufacturer. Exhibited at a series of Bus Carnivals at venues across Singapore in March and April 2016, visitors were encouraged to provide their feedback on the design of this brand new vehicle designed specifically for Singapore. Positive feedback on the design and specification has also been received from international visitors to this week's SITCE event.
The concept bus retains many of the features which have made ADL's Enviro500 the most popular high-capacity double deck bus in the world. The most significant difference is the third door and second staircase. The second and third doors act as the exit points for all riders, the result being an efficient, two-stream passenger flow throughout the vehicle which speeds up boarding and alighting, reduces vehicle dwell time at bus stops and enhances the passenger experience. Ease of access for all passengers is guaranteed thanks to the absence of any internal steps in the lower saloon.
The bus has a range of sophisticated on board specifications including luxurious high back contoured seating, WiFi, USB charging points at all seats, mood lighting and passenger information screens. Improvements for the driver include a comfortable, ergonomically designed seat within the spacious cab area. A large curved windscreen offers excellent visibility, and a CCTV monitor gives the driver all round clear views of staircases and exit doors for the added security of passengers.
Paul Davies, Director and General Manager of Alexander Dennis Asia Pacific, commented: "As a global business, we embrace this type of major customer involvement initiative. The LTA challenged ADL to design and build a double deck bus with three doors and two staircases which they believe will transform the passenger experience. A series of engineering workshops with the LTA, in addition to passenger feedback, has enabled us to further refine the initial design into a viable technical solution. We are confident the vehicle will deliver the operational advantages the LTA require while improving the passengers' on board experience."
When asked about the complexity of engineering this unique concept vehicle, Bill Thong, General Manager of Alexander Dennis (Singapore) Service Pte Limited, responded, "It's not a question of difficulty it is a question of desire. If the market is calling for a 3-door bus solution then the challenge is for manufacturers to respond and that is what we at ADL are doing."
Paul Davies added, "Our collaboration with the LTA to develop this concept bus underlines our commitment to this critically important market. With over 200 Enviro500 vehicles in circulation here, we already have a strong foundation in Singapore. In summer 2015, we invested in a new, centrally based, local HQ in Tagore 8, which is headed up by Bill Thong. We are delighted Bill joined us, bringing over 15 years senior management experience in commercially focused roles having been with Michelin, Alcoa, Akzo Nobel and Comfort Delgro, before joining Alexander Dennis Limited.
Since then we have continued strengthen our organisation in Singapore, recruiting a new Service Manager and Field Service Engineers. ADL is renowned for delivering reliable vehicles underpinned by class-leading aftermarket support, so having our own highly trained Service Engineers gives our customers the comfort of knowing their vehicles' uptime will be maximised."
About Alexander Dennis
Alexander Dennis Limited (ADL) is the UK's leading bus and coach manufacturer, employing around 2,000 people at facilities in the UK, continental Asia and North America.
The fastest growing bus and coach builder in Western Europe, ADL encompasses three famous and successful marques – Alexander, Dennis and Plaxton.
ADL produces a wide range of innovative and fuel efficient, low floor single and double deck buses, plus a full portfolio of coaches, welfare and mini vehicles.
ADL products offer real operator, passenger and environment benefits, all backed by an unswerving commitment to world class customer support.