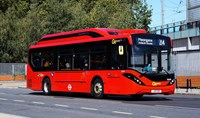 The UK's leading producer of electric buses, the BYD ADL partnership, has delivered more 100% emissions-free single deck electric buses to Transport for London (TfL) operator Go-Ahead London. 22 BYD ADL Enviro200EV models are now in service on route 214 between Highgate, Camden Town, King's Cross and the City.
These latest deliveries mean the BYD ADL partnership – BYD (Europe) and Alexander Dennis Limited, part of leading global independent bus manufacturer NFI Group – has now delivered 98 electric buses to Go-Ahead London; nearly half the total of over 200 electric buses that the BYD ADL partnership has delivered to operators throughout the UK.
This most recent delivery also signals the introduction of the shorter 10.2-metre variant to provide a reduced turning circle and enhanced maneuverability. A 9.6-metre model will follow later in the year with 11 buses for Go-Ahead London, and the operator additionally has 13 BYD ADL Enviro200EVs with a length of 10.8-metres on order and scheduled to go into service in early 2020.
The BYD ADL partnership's single deck and double deck electric buses are both being delivered in significant numbers to operators in London as the capital's transport system transitions from diesel. Over 170 BYD ADL electric buses are now in operation on TfL services, with over seven million electric miles having been completed, and more than four million completed by Go-Ahead alone.
"It's true," said Frank Thorpe, Managing Director at BYD (UK), "the order book looks very healthy for both our single deck and double deck products – and against a broadening customer portfolio outside of London, too. Manchester and Birmingham are switching to BYD ADL electric mobility and there's considerable interest elsewhere. There's a public transport revolution taking place in the UK," said Thorpe, "and it is electric mobility that really is leading the charge."
Colin Robertson, ADL Chief Executive, added, "Our customers enjoy the operational benefits of pure-electric drive – lower running costs, easier maintenance – and passengers are really responding, too. There's a genuine feel-good factor when travelling in quiet comfort on a vehicle which emits zero emissions and improves the city's air quality. As more and more routes are switched to electric, London is setting new standards for sustainable mobility."
About ADL
Alexander Dennis Limited (ADL) is part of leading independent global bus manufacturer NFI Group. ADL is a global leader in the design and manufacture of double deck buses and is also the UK's largest bus and coach manufacturer. ADL offers single and double deck buses under the Alexander Dennis brand as well as Plaxton coaches, with vehicles in service in the UK, Ireland, Europe, Hong Kong, Singapore, New Zealand, Mexico, Canada and the United States.