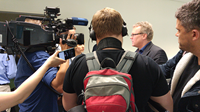 Berlin, April 18, 2018. In the first stage of the legal dispute over granting longer heavy goods vehicles, or Gigaliners, a general use license to operate on Germany's roads, the Administrative Court in Berlin announced its decision on Friday. Pro-Rail Alliance, BUND, DUH and ACV are considering further steps.
It states that a general use license for longer HGVs on Germany's roads does not contravene EU law. At the same time, the court said that the action was legally admissible and granted the Pro-Rail Alliance, a recognized environmental organization, the right to continue fighting the case against granting general use licenses to longer HGVs.
"We regard the verdict with mixed feelings," said the managing director of the Pro-Rail Alliance, Dirk Flege, on Wednesday in Berlin. "The verdict strengthens the right of environmental organisations to bring legal action and this will set a nationwide precedent. However, for the moment we have not been successful in this matter."
Due to the fundamental character of this case, the court granted leave to appeal against the decision, including a leapfrog appeal. The Pro-Rail Alliance brought the case against allowing longer HGVs a year ago with support of a broad coalition of associations made up of the ACV (Automobil-Club Verkehr), BUND (Friends of the Earth Germany) and DUH (Environmental Action Germany).
Flege announced that the Pro-Rail Alliance and the other associations will consider their next legal steps as soon as they have received the verdict in writing.
About Allianz pro Schiene
In Germany's most unconventional transport alliance, 23 non-profit organisations and over 135 companies from every part of the railway sector work closely in permanent collaboration. The motivation is the promotion and improvement of rail transport in Germany. Learn more about the structure of our transport alliance and its aims. Because the Pro-Rail Alliance promotes climate protection, the tax authorities officially class it as a non-commercial entity.