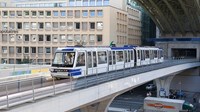 When it comes to driverless vehicles, there is a clear division of labour: whereas the car industry just discusses the matter, the railways are already operating them. In 2015, automated metro systems transported around one billion passengers in Europe's metropoles, according to a Europe-wide survey carried out by the German Pro-Rail Alliance.
A growing number of travellers in 15 cities are using the driverless trains. In France, they are already operating in five cities: Paris, Rennes, Toulouse, Lyon and Lille, in northern France, where the world's first ever driverless metro system started operating over 30 years ago. Italy has also become a European centre for automated railway systems, where Rome, Milan, Turin and Brescia are operating driverless lines with great success. In London, Barcelona, Budapest, Copenhagen and Lausanne in Switzerland, hundreds of thousands of passengers travel on fully automated train systems. In Germany, Nuremburg is among the cities that pioneered automated metro systems. Hamburg is due to follow with its own automated underground trains. Driverless trains lines are also being planned in Vienna, Athens, Thessaloniki, Istanbul, Stockholm, Glasgow and Marseille.
In the EU-wide survey, the Pro-Rail Alliance asked the operators of automated metro systems about the benefits of selfdriving trains. The results showed that automated operations shortened intervals, increased passenger capacity, raised energy efficiency, improved the availability of rolling stock, improved punctuality levels and increased safety. The operators said there were no problems with passenger acceptance.
A lead of three decades for the railways
"When it comes to driverless systems, the railways have an advantage of 33 years over the car industry," said Dirk Flege, managing director of the Pro-Rail Alliance, during the presentation of the report on Wednesday in Berlin. "It is quite astonishing that the idea of having driverless cars has fired up the world's imagination. Automated travel and the digitalisation of all processes is what public transport actually does best," said Flege.
Atomated metro trains: energy consumption cut by around 30 percent
The many advantages of automated metro systems can be clearly listed. "In comparison with conventional metro systems, the interval between driverless trains can be shorter, which means around 20 percent more passengers can be transported on a section of line. Computer controlled trains also lead to a reduction in energy consumption of up to 30 percent," said the Pro-Rail Alliance managing director. The punctuality of metro services, which is already normally high, is also slightly increased. "These are benefits that make a compelling business case when new metro lines are being constructed, which is why worldwide demand is growing rapidly," said Flege. In contrast, upgrading existing rapid transit lines to enable automated train operations is often not worthwhile. "Most of today's automated metro systems were planned to be driverless from the very beginning. Globally, where operators are planning to implement a fully automated system, it is mainly for new lines," explained Flege, who referred to the world report on metro automation by the international rail organisation UITP.
"Train drivers will still be needed for a very long time"
The technology used on rapid transit systems to enable automated train control cannot however easily be transferred to the rest of the railway network. "As soon as you have freight trains operating on a single line of track with fast and slow passenger trains, it gets difficult," said the Pro-Rail Alliance manager. Although there are driverless freight trains in Australia, "we will still need train drivers for a very long time, especially on passenger services," said Flege. "There is currently a shortage of train drivers, with rail personnel requirements continuing to grow."
Calls for field trials for the digital railways
However, the digital transformation and increasing automation has also "long since caught up" with the rest of rail system. "For regular railway operations – such as for shunting – all the relevant systems must be methodically researched so that the digitalisation and automation of the railways can be pushed forward," said Flege, who called on politicians to act. "Whereas in Germany we already have government funded field trials for the digitalisation of the road network costing millions, there is a distinct lack of funding for rail transport." As a "key player in the digital autonomous mobility sector, the railways also need government funding for digitalisation field trials and a clear digitalisation strategy for automated rail transport."
Alstom: safety is the main priority
These demands were echoed by rail technology manufacturer Alstom, which – together with Siemens and Ansaldo Breda (now Hitachi) – has developed rolling stock and signalling equipment for automated metro systems in Europe. Alstom has a great deal of know-how in the field of automatic train systems. Numerous trains are already in operation worldwide or are currently being developed. The focus is on concepts where the responsibility for carrying out the control centre's operating instructions is transferred directly to the metros. Alstom wants to use this global technical knowledge and apply it to new – existing or emerging – areas of transport. "In this respect, rail transport safety has the highest priority," said Christoph Gralla, signalling director at Alstom in Germany and Austria. "In cooperation with our customers, we are already developing methods for completely understanding the challenges posed by every area of application that we have looked at. Regional transport is also part of this research and will benefit from the first results. In the current phase, we are above all looking at driver assistance and not fully automating operations," said Gralla.
About Allianz pro Schiene
Allianz pro Schiene e.V. (The Pro-Rail Alliance) is the German alliance for the promotion of environmentally friendly and safe rail transport. It is an independent umbrella organisation that unites non-profit organisations and the commercial sector for the purpose of lobbying on behalf of the railways.