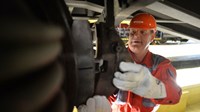 The German Pro-Rail Alliance has welcomed legislation to ban noisy freight train wagon sfrom the end of 2020. The law was passed today by the Bundesrat, Germany's second chamber, in the final hurdle in the legislative process.
"This law was long overdue and will provide relief for the noise-plagued people living near railway lines," said the managing director of the Pro-Rail Alliance, Dirk Flege, in Berlin. "The Pro-Rail Alliance has for years been committed to a complete noise abatement overhaul of the freight wagon fleet, and supports the goal of halving noise emissions from trains by 2020," said Flege. The sector has been unanimous in its calls for the legislation because German freight wagon owners invest considerable sums of money on the expensive retro-fitting of quieter brakes and need legal certainty. "A strict and clear ban on noisy goods wagons in Germany is the rail freight sector's declared wish," said Flege.
Fewer exceptions for noisy goods wagons
The transport alliance now also agrees with the reduced number of exceptions contained in the final version of the legislation. Exceptions to the general ban on noisy goods wagons will only be briefly allowed in certain approved cases where speed limits will reduce noise emissions. This exception clause is intended to avoided conflicts with EU regulations without clogging up the German network with slow-moving freight trains. "This sends a sufficiently clear message to the owners of noisy wagons," said Flege.
Government should lobby for noise protection in the EU
The Pro-Rail Alliance is calling on the German government to immediately push for an EU-wide ban on noisy freight wagons from the end of 2020. "Noise protection does not stop at the border. EU-wide restrictions on noisy freight wagons will at the same time deal with the need for complicated exception rules on a national level. It would be a step that people in neighbouring countries would also appreciate," said Pro-Rail Alliance managing director Flege.
About Allianz pro Schiene
Allianz pro Schiene e.V. (The Pro-Rail Alliance) is the German alliance for the promotion of environmentally friendly and safe rail transport. It is an independent umbrella organisation that unites non-profit organisations and the commercial sector for the purpose of lobbying on behalf of the railways.