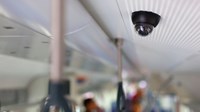 Commuters and passengers who use regional transport are much less worried about CCTV video surveillance on trains than data protection groups might want to admit. A representative survey by the pollsters Forsa for Lower-Saxony's regional railways confirmed the findings of older Forsa surveys on how safe passengers feel that were carried out on behalf of the German Pro-Rail Alliance. Currently, 93 percent of passengers in Lower-Saxony believe that is it fundamentally correct that CCTV is deployed on trains to help solve and prevent crime. According to the poll, men and women feel equally much safer if video surveillance technology has been installed on trains and in stations.
"We feel encouraged by this poll, which was published today in Hanover," said Dirk Flege, managing director of the Pro-Rail Alliance, on Thursday in Berlin. Referring to the main findings of the passenger survey, Flege added: "Occasional travellers and regular commuters all support video surveillance. What's remarkable about this poll is that people were not surveyed anonymously by phone but directly on trains."
Legal certainty: data protection must be standardised
In view of the survey's findings, the Pro-Rail Alliance is supporting the call by the council of transport ministers to develop standardised data protection rules for all federal states. "The rail operators need to have legal certainty with regards to deploying cameras on trains. Because data protection in Germany is the responsibility of the federal states, uniform standards would help rail operators avoid trouble and save taxpayers' money. Currently, data protections issues have to be checked by all 16 federal stats even though the questions being discussed are always the same," criticised Flege.
Passengers want video surveillance and personnel
From the passengers' point of view, the Pro-Rail Alliance warned that it would be wrong to address public transport safety concerns simply by deploying CCTV. "Commuters and people at train stations want video surveillance as well as railway staff they can actually talk to," said Flege. This is something that the current Forsa poll has once again confirmed. "CCTV by itself without train personnel does not make passengers feel any safer."
About Allianz pro Schiene
Allianz pro Schiene e.V. (The Pro-Rail Alliance) is the German alliance for the promotion of environmentally friendly and safe rail transport. It is an independent umbrella organisation that unites non-profit organisations and the commercial sector for the purpose of lobbying on behalf of the railways.