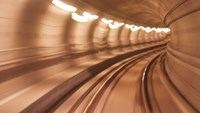 The German Pro-Rail Alliance has said that the legislation on transport construction for the new federal transport infrastructure plan is "a transport policy disappointment". In a statement on 'railway requirements planning', the transport alliance, which represents business and civil society, also renewed its overall criticism of the transport policy course being set by the federal transport ministry.
"In both the transport infrastructure plan and the legislation on upgrades and construction, a clear timetable for essential rail projects is lacking. Urgent upgrades to the rail network to enable freight trains with a length of 740 metres and construction on major rail junctions are unanimously considered by experts to be essential climate protection measures. In contrast, the transport ministry, after spending the last 6 years working on its infrastructure plan, still has not completed an evaluation," complained the managing director of the Pro-Rail Alliance, Dirk Flege, on Wednesday in Berlin. "On August 3, the cabinet will be presented with unfinished legislation: 40 railway projects in the newly created category 'Potentially Required' will now be added to the railway requirements planning list, as placeholders," said Flege. At least there is now a chance that these projects will be realised if an evaluation of them can be completed as quickly as possible.
Transport infrastructure plan is too road oriented
The legislation on transport construction repeats the same flaws found in the infrastructure plans. "With 55 percent of state spending on new construction and infrastructure upgrades going to road-based transport by 2030, it clearly remains the main beneficiary of the government's transport policy. For railway projects there is a lack of both funding and the appropriate high level of prioritisation," said Flege. The federal government's focus of the roads means it will miss its own goal of strengthening the railways, complained the Pro-Rail Alliance.
Transport policy without public consultation
The Pro-Rail Alliance criticised the extremely short feedback period and the quality of public participation. At the same time, the federal government's transport infrastructure plan is itself a year overdue. "The nearly 40,000 statements from civil society, associations, the public and transport experts can hardly be taken into consideration before the revised transport infrastructure plan is presented to the cabinet on August 3," said Flege. "Under such circumstances, the development of a modern vision transport will not be successful"
About Allianz pro Schiene
Allianz pro Schiene e.V. (The Pro-Rail Alliance) is the German alliance for the promotion of environmentally friendly and safe rail transport. It is an independent umbrella organisation that unites non-profit organisations and the commercial sector for the purpose of lobbying on behalf of the railways.