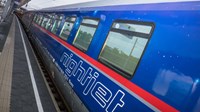 In the run-up to the transport committee's debate on night trains in the federal parliament on Wednesday, the German Pro-Rail Alliance has called for a level competitive playing field between aviation and night train services.
"After taking over selected routes in December, the Austrian operator ÖBB has said that it is positive about developments so far, which shows that travellers are booking the new connections," said the managing director of the Pro-Rail Alliance, Dirk Flege, on Wednesday in Berlin. Flege called on politicians to clearly signal their support for night train services as well. "After Deutsche Bahn's decision to stop running night train services, German travellers must continue to live with reduced services and routes. The policies that disadvantage night trains services in their competition with the airlines must now be corrected so that night trains can depart what is a niche market, release the brakes and gain momentum," said the Pro-Rail Alliance managing director.
Night trains pay full VAT rates; airline tickets are exempted
The Pro-Rail Alliance pointed out that passengers buying international night train tickets in Germany must pay the full rate of VAT for the German part of the journey, whereas most states in the EU impose no VAT on international train tickets. Air passengers also pay no VAT on international tickets. In addition, the railways are treated unfairly when it comes to taxes on fuel. Airlines and air passengers pay no duties on fuel and no eco-taxes. "In contrast, the railways and rail passengers are burdened with a tax on traction current, EEG levies for renewable energy and green eco-taxes. According to figures compiled by the German Environment Agency UBA, the environmentally damaging financial support for the aviation industry alone amounts to almost 12 billion euros annually. The German state misses out on tax receipts of 7.1 billion euros by not imposing duties on aviation fuel and 4.8 billion euros by exempting international flights from paying VAT."
About Allianz pro Schiene
Allianz pro Schiene e.V. (The Pro-Rail Alliance) is the German alliance for the promotion of environmentally friendly and safe rail transport. It is an independent umbrella organisation that unites non-profit organisations and the commercial sector for the purpose of lobbying on behalf of the railways.