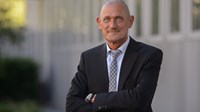 The head of the Mobility Division at Siemens Germany, Manfred Fuhg, has been elected as the new spokesman for the companies represented in the German Pro-Rail Alliance.
The vote took place on Friday during the German Austrian Rail Dialogue at the Austrian embassy in Berlin, with the companies organized under the Pro-Rail Alliance umbrella electing the Siemens manager unanimously. As spokesman and top representative of the Pro-Rail Alliance's business pillar, Fuhg was also appointed vice chairman of the transport alliance, which represents over 140 companies from the rail supply industry, train operators and ancillary companies, covering the whole sector. Manfred Fuhg succeeds former Bombardier manager Susanne Kortendick, who did not stand for reelection after joining the board of the Metro Group.
Fuhg announced that he would be focusing on the issue of digitalization. "Digital services and the increasing integration of data, infrastructure and vehicles are changing the face of transport. The climate friendly railways must be in the vanguard of this movement so that more people can choose sustainable mobility, and transport in Germany can become greener." Manfred Fuhg studied electrical engineering and has worked for Siemens AG since 1983. His responsibilities within the company have included Rail Automation and City Mobility Germany. In 2015, he was appointed head of the Mobility Division Germany.
Dirk Flege, managing director of the Pro-Rail Alliance, praised the work of the group of supporting members. "In our transport alliance, companies have a powerful voice. Manfred Fuhg has worked in the industry for many years and will represent the interests of the rail supply industry. I am very pleased to have such a well-versed and well-connected rail manager on our team. At the same time, I would like to thank Susanne Kortendick for three years of excellent collaboration. It is also significantly to her credit that the Pro-Rail Alliance now has a broader base within the rail sector than ever before."
About Allianz pro Schiene
Allianz pro Schiene e.V. (The Pro-Rail Alliance) is the German alliance for the promotion of environmentally friendly and safe rail transport. It is an independent umbrella organisation that unites non-profit organisations and the commercial sector for the purpose of lobbying on behalf of the railways.