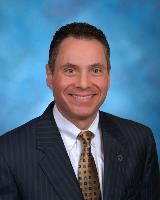 Allison Transmission announced today that David S. Graziosi has begun serving as the company's CEO. He previously served as president and chief financial officer since January 2016.
"Right now is an exciting time to be part of the Allison family and this industry," said Graziosi. "I believe this company and its talented employees are well-positioned to realize the opportunities that lie ahead, while continuing the heritage of leadership in the markets we serve and in the communities where we live and work."
Graziosi's selection as the next CEO was first announced by the company's board of directors in August 2017. He succeeds Lawrence E. Dewey, who retired May 31 as Allison's longest-serving executive in its 103-year history.
"I am both humbled and honored to succeed Larry as Allison's next CEO," said Graziosi. "He successfully led the company through several periods of significant change while positioning Allison for continued, long-term success. The standards he established and his record of performance separates the company from virtually any other industrial enterprise."
Graziosi, 52, joined Allison as executive vice president, CFO and treasurer in November 2007, shortly after the sale of Allison by General Motors to The Carlyle Group and Onex Corp. which ultimately led to an initial public offering in March 2012. Graziosi was named president in January 2016, and in that role oversees Operations, Purchasing and Supplier Quality, Quality and Reliability, Legal, Corporate Affairs and Communications, Internal Audit, Human Resources, Information Systems and Services, and Financial activities. Graziosi began his career in public accounting and has extensive experience in multinational manufacturing businesses.
In addition to becoming CEO, Graziosi will also retain his role as president.
"Since joining Allison, Dave has demonstrated excellent leadership skills, a clear understanding of the company and the ability to expand his role," said Thomas W. Rabaut, lead director of the board and chairman of the Nominating and Corporate Governance Committee for Allison.
In May, the board announced that G. Frederick Bohley III would succeed Graziosi as Allison's CFO, also effective June 1. Bohley has been with Allison since 1991 and most recently served as vice president for finance and as treasurer, a role that he will retain along with his new responsibilities.
ABOUT ALLISON TRANSMISSION
Allison Transmission (NYSE: ALSN) is the world's largest manufacturer of fully automatic transmissions for medium- and heavy-duty commercial vehicles and is a leader in electric hybrid-propulsion systems for city buses. Allison transmissions are used in a variety of applications including refuse, construction, fire, distribution, bus, motorhomes, defense and energy. Founded in 1915, the company is headquartered in Indianapolis, Indiana, USA and employs approximately 2,700 people worldwide. With a market presence in more than 80 countries, Allison has regional headquarters in the Netherlands, China and Brazil with manufacturing facilities in the U.S., Hungary and India. Allison also has approximately 1,400 independent distributor and dealer locations worldwide.