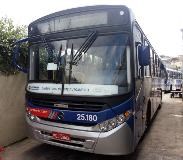 Del Rey Transportes, the public transportation company, will feature a Mercedes-Benz OF 1721 prototype with a fully automatic Allison T270R™ transmission at the 10th BusBrasil Fest on January 29 at Charles Miller Square, in front of Pacaembu Stadium.
"Three years ago, in partnership with Allison, we retrofitted this OF 1721 Euro 5 with one of their fully automatic transmissions," said Ronaldo Guilherme da Silva, maintenance manager for Del Rey. "After spending every day on the road during that span, the bus has provided nothing but positive results."
BusBrasil Fest is an opportunity for bus fans in Latin America to see and learn the newest developments about their favorite mode of transportation. The last event attracted more than 200 vehicles and nearly 4,000 attendees.
For this year's event, Del Rey chose to bring its most outstanding vehicle. The Mercedes OF 1721 chassis, equipped with the Allison transmission and Caio body, serves daily intercity bus routes, mostly among the cities of Cotia, Carapicuíba and Barueri.
"In the beginning, as a new endeavor, some initial adjustments were necessary," said Silva. "But Allison's engineering staff gave us all the support we needed to adapt the transmission to our performance and fuel consumption goals."
Throughout the test period, the OF 1721 has virtually had no downtime. Unlike manual buses, which demand frequent maintenance and replacement of clutches, the OF 1721 only needed preventive maintenance. After three years in service, the bus is currently in its final assessment phase.
"By not having a clutch system, the OF 1721 allows our drivers to focus on the road instead of shifting," said Silva. "Once our drivers experience the automatic buses, they never want to return to a manual. They get a vehicle that's easier to operate and we get reduced maintenance costs. Most importantly, the Allison transmission provides a smoother ride for our customers."
For Del Rey, participating in BusBrasil Fest is a great way to celebrate its advances in providing public transportation. This year, attendees will get a close look at the Allison-equipped OF 1721, a pioneering initiative in the Brazilian market that has proven to be the right choice in terms of efficiency, low maintenance and comfort.
About Allison Transmission
Allison Transmission (NYSE: ALSN) is the world's largest manufacturer of fully automatic transmissions for medium- and heavy-duty commercial vehicles and is a leader in hybrid-propulsion systems for city buses. Allison transmissions are used in a variety of applications including refuse, construction, fire, distribution, bus, motorhomes, defense and energy. Founded in 1915, the company is headquartered in Indianapolis, Indiana, USA and employs approximately 2,700 people worldwide. With a market presence in more than 80 countries, Allison has regional headquarters in the Netherlands, China and Brazil with manufacturing facilities in the U.S., Hungary and India. Allison also has approximately 1,400 independent distributor and dealer locations worldwide.