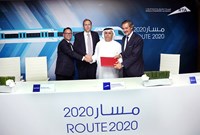 The Alstom-led consortium Expolink, also composed of ACCIONA and Gulermak, has signed a contract with RTA (Roads & Transport Authority) to design and build the extension of Dubai's Red metro line and upgrade the system of the existing line. The total value of the project, also called Route 2020, is €2.6 billion. Alstom's share represents half and the civil works, led by ACCIONA including Gulermark, represent the other half. The extended line, which will connect the city to the Expo 2020 site, is expected to start commercial service in 2020 for the World Expo.
The signature of the contract follows the announcement made by HE Mattar Al Tayer, Director General and Chairman of the Board of Executive Directors of the RTA at a press conference that was held in Dubai on June 29, 2016. The event was also attended by the three Chairmen of the companies forming the Expolink Consortium: Henri Poupart-Lafarge, Chairman and CEO of Alstom, José Manuel Entrecanales, Chairman of ACCIONA and Kemal Guleryuz, Chairman of Gulermak.
The project involves the construction of a 15-kilometre-long line – of which 11.8 kilometers of elevated metro line and 3.2 kilometers underground metro line - branching off the existing red line at the Nakheel Harbour & Tower station. The metro extension will have seven stations, including an interchange at Nakheel Harbour and an iconic metro station at the World Expo site. The highly-complex project will include a 3.2 km tunnel perforated by a tunnel boring machine, 1.2 km of open-cut route and 11.8 km of elevated viaduct metro line.
Alstom will provide and integrate the whole metro system including 50 Metropolis trainsets, power supply, communication, automatic fare control, track works, platform screen doors and a three-year warranty on the whole system. Additionally, Alstom will enhance the existing metro line by upgrading power supply, signalling systems, miscellaneous communication and track works. The Metropolis trainsets for Dubai are 88 meters long and composed of five cars per trainset. They will be able to carry up to 700 passengers each. The train offers an excellent level of passenger experience, thanks to wide gangways, large doors and windows, three specific areas for Silver, Family and Gold Classes. Eco-friendly, the train is equipped with a full electrical braking system, LED lighting and other innovations to reduce energy consumption.
Alstom is a dedicated and long-standing partner of Dubai city's rail transport development. Alstom delivered the Dubai tramway, the first fully integrated tramway system in the Middle East and 100% catenary-free, which opened in November 2014. Alstom is also in charge of the maintenance of the Dubai Tram system for a period of 13 years. Alstom, which is the world leader in the supply of integrated urban mobility systems, has been awarded 18 integrated metro projects in over a decade in cities such as Guadalajara (Mexico), Riyadh (KSA), and Los Teques (Venezuela), Panama (Metro L. 1&2).
About Alstom
From trains to services and from signalling to infrastructure, Alstom is a leading supplier of integrated mobility solutions. Alstom manages all the stages in setting up an integrated metro system, from its design, to its complete validation and commissioning. With 17 integrated metro projects awarded in cities such as Panama (L. 1 and 2), Guadalajara (Mexico), Los Teques (Venezuela) and Riyadh (Saudi Arabia) - one of the largest turnkey metro projects ever launched, Alstom is a world leader in this area.
About Acciona
ACCIONA set up its first office in the Middle East in Dubai in 2008. Since then, Dubai has been the hub and expansion platform from which ACCIONA has delivered a number of projects in infrastructure and water services, including desalination, in the Gulf region.
ACCIONA has extensive experience in constructing metro lines in Spain, Ecuador and Brazil, as well as railway tunnels. It is currently building the longest railway tunnel in Scandinavia for the Norwegian Railway Authority and is constructing the Sydney Light Rail project for the New South Wales government in Australia. Moreover, ACCIONA recently delivered the Legacy Way road tunnels in Brisbane, Australia, which received numerous awards for engineering and environmental excellence.
About Gulermak
GULERMAK, during the last decade, have completed more than 100 km of underground metro lines and more than 50 underground metro stations with its deeply rooted corporate culture and highly experienced staff. GULERMAK has recently delivered three landmark fast-track metro projects valued at more than one billion US dollars each, including the Warsaw Metro Line II, the Istanbul Otogar–Bagcılar Metro Line, and the Istanbul Kadikoy–Kartal Metro Line and currently delivering metro projects in Ankara, Istanbul (Turkey), Warsaw (Poland) and Lucknow (India).