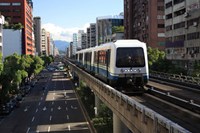 Alstom has joined the Spanish business association for the promotion and development of the electric vehicle market (AEDIVE), in line with the company's strategy to build sustainable transportation. Alstom aims at developing new infrastructure technologies in the field of rail or road electric mobility based on its railway expertise and at contributing to a zero-emission transport system in Spain.
Over the last 15 years, Alstom has been developing catenary-free solutions which ensure autonomy and energy efficiency of railway urban transport, as well as full integration of trams into historic city centres. The range developed by Alstom includes APS, a proven ground-based dynamic conductive power supply system which has been implemented in 10 cities within the last 12 years.
The latest addition to the range is SRS – an innovative ground-based static conductive charging system. Whereas APS continuously supplies power to the tram while in motion SRS charges the tram when stopped at station. Equipped with supercapacitators, the vehicle is recharged via ground-based power rails and through collector shoes mounted under its body. Between two stations, it runs autonomously and the energy can be recovered during braking phases.
Initially developed for trams, SRS is also available for electric buses. Similarly to the way it works for trams, buses are recharged through ground-based charging points located at bus stops or at the terminus of a line. SRS is applicable to a wide range of electric buses.
Alstom is also involved in a programme implemented in Sweden in partnership with Volvo Trucks to extend the application of APS technology to hybrid trucks dynamic feeding.
About AEDIVE
Created in 2010, AEDIVE is the Spanish Business Association for the Boosting and Development of the Electric Vehicle Market, an Innovative Enterprise Grouping that gathers all the value chain of the electric vehicle industrial and technological sector. Together with the representation of the industry and technology linked with the Electric Vehicle market, AEDIVE is also a member of national and international platforms and partnerships which bring the Association and added value as a benchmark in the eMobility sector like Move2Future, Spanish Technology Platform for the Automotive industry; Alianza INERCIA (Inertia Alliance), an alliance of industry associations representing different sectors but with common goals in the drive for Smart Cities, and AVERE, the main European network of national electromobility associations.
About Alstom
From trains to services and from signalling to infrastructure, Alstom is a leading supplier of integrated mobility solutions. Alstom manages all the stages in setting up an integrated metro system, from its design, to its complete validation and commissioning. With 17 integrated metro projects awarded in cities such as Panama (L. 1 and 2), Guadalajara (Mexico), Los Teques (Venezuela) and Riyadh (Saudi Arabia) - one of the largest turnkey metro projects ever launched, Alstom is a world leader in this area.