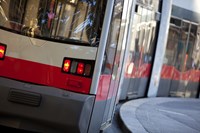 Alstom[1] has been awarded a contract by Network Rail for the full re-signalling of the Great Western Main Line between Reading and Paddington in the west of London. This major contract is worth over €100 million[2].
Network Rail and Alstom have worked in close collaboration to develop an interlocking solution based on Alstom's Smartlockrange that will be ready for ETCS installation allowing trains with ETCS capability to operate on that section of the line. Smartlock interlocking proven solutions has been developed for the most complex and challenging major railway re-signalling projects. The works, which include both the renewal of the existing Interlocking and some track remodelling, have already started in order to maintain the tight delivery programme. They are due to reach completion by the end of 2017.
"Alstom is very proud to take part in this project and will provide Network Rail with state-of-the-art, proven and reliable solutions" declared Nick Crossfield, Managing Director Train Control solutions in UK.
In February 2014, Alstom joint venture, ABC Electrification Ltd, had been selected as one of four suppliers to deliver a €2.4 billion electrification programme which will electrify more than 3000 kilometres of Britain's railways over the next seven years. In November 2015, Alstom was awarded a Network Rail framework agreement to design and develop European Train Control System (ETCS level 2) using Alstom's proven Atlas technology, and was awarded recently a first contract to deploy ETCS trainborne solution on intercity trains.
Alstom is now responsible for providing signalling renewals and enhancements as primary supplier in three out of eight geographical regions in the UK: Central East, Great Western Inner and Great Western Outer. Alstom also is the secondary supplier in four other geographical regions: Scotland, Central West, Wales and Western and Kent and Anglia.
[1]
Through SSL: Alstom acquired 100% of Signalling Solutions Ltd (SSL), in the United Kingdom in May 2015. On 1 April 2016 SSL was formally integrated into Alstom.
[2] Booked in Q4 of fiscal year 2015/16
About Smartlock 400
The latest generation in computer-based interlocking systems for station and line control, Smartlock 400 reduces operating costs through the full automation of route settings and direct links to station services such as passenger information systems. The fully integrated train detection system, direct interface with point machines and signals (no need for traditional signalling relays) and remote diagnostics help to reduce maintenance costs. Installation can be simplified thanks to the system's modular architecture and extensive factory testing of the final configuration.
About Alstom
From trains to services and from signalling to infrastructure, Alstom is a leading supplier of integrated mobility solutions. Alstom manages all the stages in setting up an integrated metro system, from its design, to its complete validation and commissioning. With 17 integrated metro projects awarded in cities such as Panama (L. 1 and 2), Guadalajara (Mexico), Los Teques (Venezuela) and Riyadh (Saudi Arabia) - one of the largest turnkey metro projects ever launched, Alstom is a world leader in this area.