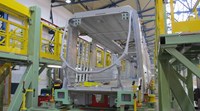 Alstom has started the production of trainsets for the Riyadh Metro in its Katowice plant in Poland. As part of the contract awarded in 2013 by Arriyadh Development Authority (ADA) to the FAST consortium, which includes Alstom, for the design and construction of lines 4, 5 and 6 of the Riyadh Metro network, the Katowice plant will manufacture all 69 of the Metropolis trainsets.
The first three Metropolis trainsets will be delivered to ADA in 2017. Katowice plant, which hosts around 1,000 employees, is one of Alstom's largest train manufacturing sites in the world. Every step of the train's production, including the final static and dynamic tests, is carried out here.
A full-size mock-up of the Riyadh Metropolis trainset manufactured by Alstom will soon be unveiled to the city's inhabitants by ADA.
Metropolis for Riyadh is composed of two cars per set and is 36 metres long. Each train features three classes: first class, family and single. The train is driverless and is 100% motorized, allowing it to run on the slopes of the line with gradients up to 6%.
The trains will offer passengers a high level of comfort, ergonomic seating, LED lightning, air conditioning and an advanced passenger information system. In addition to the Metropolis trainsets, Alstom will provide Urbalis, its CBTC signalling solution, as well as the power supply and Alstom's energy recovery system HESOP. All sub systems have been optimised together so as to reduce energy consumption.
The other Alstom sites involved in the project are located in France (Valenciennes for the engineering, Le Creusot for the bogies, Villeurbanne for the train control and monitoring system, Ornans for the motors and Saint-Ouen for the signalling), Spain (Madrid for the passenger information and security system) and Belgium (Charleroi for the traction sub-system and auxiliary converter).
About Alstom
As a promoter of sustainable mobility, Alstom develops and markets systems, equipment and services for the railway sector. Alstom manages the widest range of solutions in the market – from high-speed trains to metros and tramways – and associated maintenance, modernisation, infrastructure and signalling solutions. Alstom is a world leader in integrated railway systems. It recorded sales of €6.2 billion and booked €10 billion of orders in the 2014/15 fiscal year. Headquartered in France, Alstom is present in over 60 countries and employs 32,000 people today.