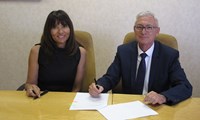 Alstom today announced that it has completed the acquisition of 51% share in South African rail company CTLE (Commuter Transport & Locomotive Engineering), specialized in the modernisation of trains, from CTE and IDC which remain shareholders.
The company has also revealed the new name of the company which is Alstom Ubunye and its new CEO Yvan Eriau, also Managing Director of Alstom South Africa.
Through this acquisition, which follows approval by the South African antitrust authorities, Alstom Ubunye's structure will be reinforced and its portfolio broadened. Meanwhile, Alstom's presence in South Africa is reinforced, to better address the country as well as Southern African region transport needs.
Alstom is now starting the integration of Alstom Ubunye which counts over 400 employees and a 80,000 m2 manufacturing facility. The acquisition will develop local competencies and the new company will benefit from Alstom's technology and expertise. The integration will extend the activities of Alstom Ubunye which will include infrastructure, signalling, trains and components, as well as services to better address the region's railway transport needs.
"To be closer to its customers, Alstom has decided to further invest in South Africa. We know we can rely on a highly skilled workforce here in CTLE to seize the new opportunities to come. We are very pleased to conclude this new deal with our South African partners to create a stronger industrial and commercial base able to offer a full range of rail products & solutions in Southern Africa" said Yvan Eriau.
CTLE was formerly known as Union Carriage & Wagon (UCW) which was established in 1964, providing rail vehicles for the South African Railways and executing export orders for several Asian & Southern African countries.
Well established in South Africa, Alstom is presently working on the supply of 600 X'Trapolis Mega commuter trains to the national rail company PRASA (Passenger Rail Agency of South Africa) through its South African joint venture Gibela.
About Alstom
A promoter of sustainable mobility, Alstom Transport develops and markets the most complete range of systems, equipment and services in the railway sector. Alstom Transport manages entire transport systems, including trains, signalling, maintenance and modernisation, infrastructure and offers integrated solutions. Alstom Transport had sales of €6.2 billion and booked €10 billion of orders in the fiscal year 2014/15. Alstom Transport is present in over 60 countries and employs around 28,000 people