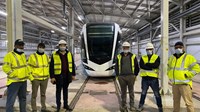 Alstom has successfully conducted the first test-run for Mostaganem tramway project. During this phase, Alstom's tramways have run from the secondary storage park T2 section to SNTF station, around 2km.
The length of Mostaganem tramway project is 14-km long and includes 24 stations. For this project, Alstom and Cosider Travaux Publics/Cosider Ouvrages d'Art are in a single lot configuration. The test was attended by the Algerian Minister of Transport, Lazhar HANI, the Governor of Mostaganem, Isaa Boulahia and representatives from Alstom Algeria.
"Mostaganem tramway is a very important system project for Alstom and was expected by the public since a long time. We are pleased to have achieved this significant milestone despite the various delays as well as the COVID-19 pandemic. The next steps will be the rigorous dynamic tests to ensure smooth running and guarantee maximum safety for both the passengers and the operator. We will pursue our long-term partnership in the country to better address the customers' mobility needs and offer them smart, green & innovative solutions fitting with their expectations", said Amar Chouaki, Managing Director for Alstom Algeria.
Alstom supplied the integrated system, tracks, catenaries, telecommunications and signalling, substations and ticketing equipment. Each line has been equipped with the Citadis tramways manufactured at the Annaba site (in the north-east of Algeria) by Cital, Alstom's local joint-venture founded in 2010.
Alstom has been present in Algeria for nearly over 30 years, with around 250 employees, Alstom has always supported the local railway industry and infrastructure developments, especially in the tramway market with several trams already in service (Algiers, Oran, Constantine, Ouargla, Sétif, Sidi Belabes). In addition, Alstom has always considered the development of its industrial and engineering activities in the country as a strategic priority, including the transfer of technologies as well as the development of local competencies. Through its Cital JV, Alstom is well placed to meet the growing mobility needs for tramway systems across the country and continue to support the development of the cities in Algeria.
About Alstom

Alstom's ambition is to accompany all transportation stakeholders in meeting tomorrow's mobility challenges. We strive to provide them with the most efficient and digital mobility systems, while further improving the environmental friendliness of our solutions.