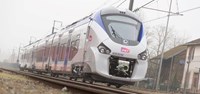 Alstom has delivered the 100th Regiolis, destined for the Midi-Pyrenees region in France. After 18 months of use, the Regiolis trains have travelled over 4.5 million km, demonstrating a level of reliability surpassing the objectives set by SNCF. The first Regiolis trains entered commercial service in Aquitaine, Alsace, Lorraine and Midi-Pyrenees in April 2014.
Working to ensure this reliability and the proper daily functioning of the material in complete security are the technicians of the Alstom After-Sales Service teams, today deployed at 11 client sites. They place their competencies at the service of SNCF and the French regions with a focus on two main missions: to train SNCF agents how to drive the Regiolis train, and to ensure corrective maintenance of the train in commercial service during its warranty period. The After-Sales Service teams are supported by the PMCO team based at the Alstom site of Reichshoffen, which has a depot dedicated to the management of consignment stock containing 14,000 spare parts and 1,300 references. The required parts are dispatched to the places that need them in under 24 hours. In parallel, the Reliability experts of PMCO monitor the state of the trains in real time thanks to TrainTracer, an on-board predictive maintenance system developed by Alstom.
Regiolis is part of Alstom's Coradia Polyvalent range. Thanks to its flexible architecture, it can be adapted to the needs of every organising authority as well as different types of use: suburban, regional and intercity. It comes in three lengths (56, 72 or 110 metres) and offers optimal comfort for passengers, whatever the length of the journey. Regiolis is both ecological and economical, thanks to its low energy consumption and reduced maintenance costs. Thanks to the ongoing homologation programme of Regiolis, as of March 2015 SNCF and the French regions can operate their trains in multiple units of three and four, allowing them to be flexible and adapt to dense traffic or rush hour when the number of passengers can reach over 1,000.
To date, 13 regions in France have ordered 243 trains of which 192 Regiolis for the regions, 17 cross-border trains between France and Switzerland (CEVA) and 34 Intercity trains, destined to replace the Corail trains.
The production of Coradia Polyvalent generates over 4,000 jobs in France for Alstom and its suppliers. Six of Alstom's twelve sites in France are involved in the project: Reichshoffen for the conception and assembly, Ornans for the motors, Le Creusot for the bogies, Tarbes for the traction, Villeurbanne for the on-board electronics and Saint-Ouen for the design.
About Alstom Transport
A promoter of sustainable mobility, Alstom Transport develops and markets the most complete range of systems, equipment and services in the railway sector. Alstom Transport manages entire transport systems, including trains, signalling, maintenance and modernisation, infrastructure and offers integrated solutions. Alstom Transport had sales of €6.2 billion and booked €10 billion of orders in the fiscal year 2014/15. Alstom Transport is present in over 60 countries and employs around 28,000 people