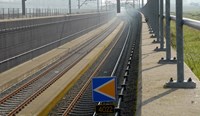 Ten years ago, in December 2005, Alstom has driven innovation in the field of signalling and railway safety by being the first to put into service its ERTMS Level 2 radio-based system (Atlas 200) on the Rome-Naples high-speed line in Italy, hence freeing the train control system from the constraints and cost of trackside signal lights.
ERTMS programme (European Rail Traffic Management System) was launched in the early 1990s by the European Union to standardise and modernise the design of train signalling and protection systems. ERTMS are one of the keys elements of railway signalling systems to enhance safety and manage railway traffic control and ensure that no collision or derailment can happen.
Since the first line implemented in Italy, Alstom has had many successes with Atlas 200, maintaining its position as the market leader for interoperable ERTMS Level 2 systems in operation. The Atlas solution equipped the first high density line in Switzerland in 2006, the first freight line in The Netherlands in 2007 and has succeeded in making the first cross border operation a success in 2009. Since last week, the company is the first ETCS on-board supplier to start commercial operation in Germany under ETCS Level 2 supervision. It is also participating in the putting into service of pure ERTMS Level 2 lines outside of Europe with projects in UAE and in Saudi Arabia.
Alstom is also installing Atlas 200 on the eastern part of Denmark for the national resignalling and on the CNM (Nimes-Montpellier) TGV line in France.
The latest evolutions of Atlas: Atlas 400 and 500, launched a year ago, are able to adapt to different traffic requirements, covering networks that operate between 6 and 600 trains per day.
About Alstom
A promoter of sustainable mobility, Alstom Transport develops and markets the most complete range of systems, equipment and services in the railway sector. Alstom Transport manages entire transport systems, including trains, signalling, maintenance and modernisation, infrastructure and offers integrated solutions. Alstom Transport had sales of €6.2 billion and booked €10 billion of orders in the fiscal year 2014/15. Alstom Transport is present in over 60 countries and employs around 28,000 people