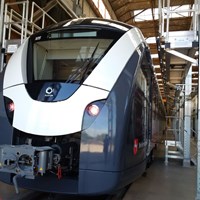 Alstom has inaugurated a new service facility in Braunschweig, Germany, for the maintenance of electric passenger trains and locomotives. The site's extension includes two additional maintenance workshops equipped with electrified tracks, a state-of-the-art turning lathe and a train washing system. The total investment amounts to approximately €15 million. In addition, 130 new jobs have been created in Braunschweig. On the occasion of the opening ceremony, a 15-year contract to execute the external cleaning of the WestfalenBahn trains serving the lines of Rheine–Braunschweig and Bielefeld–Braunschweig has been signed between Rainer Blüm, Managing Director of the WestfalenBahn GmbH, and Martin Lange, Alstom Transport Managing Director in Germany.
"Alstom has been able to revive the long industrial tradition of this site, which goes back more than hundred years, and create a highly modern maintenance facility. Further investments will be made in the coming years, notably in a modern paint shop", said Martin Lange when opening the depot.
Until now, the site has been mainly specialised in the modernisation and repair of diesel multiple units. From December 2015, as Entity in Charge of Maintenance (ECM), Alstom will conduct on-site preventive and corrective maintenance of the entire ENNO fleet of electric trains acquired by Zweckverband Großraum Braunschweig (ZGB) [1] and operated by Metronom. To maintain the 20 trains and to carry out their general inspections, overhead lines were installed on the premises and in the depot. Moreover, the entire rail connection has been electrified over a length of 1.5 kilometres. Besides overhauls, accident repairs, on-site maintenance and washing, wheel re-profiling will also be performed in the workshop thanks to the new state-of-the-art underfloor turning lathe.
[1] In 2012, ZGB awarded Alstom a contract to deliver 20 Coradia Continental electric trains and maintain them over a period of 20 years. The trains are manufactured at Alstom's plant in Salzgitter, Germany.
About Alstom Transport
A promoter of sustainable mobility, Alstom Transport develops and markets the most complete range of systems, equipment and services in the railway sector. Alstom Transport manages entire transport systems, including trains, signalling, maintenance and modernisation, infrastructure and offers integrated solutions. Alstom Transport had sales of €6.2 billion and booked €10 billion of orders in the fiscal year 2014/15. Alstom Transport is present in over 60 countries and employs around 28,000 people.