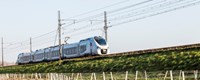 Alstom has published the environmental declaration for its range of regional trains, Coradia Polyvalent. The declaration has been verified by Bureau Veritas CODDE in line the requirements of the norm ISO 14025 and can today be consulted on the website of the International EPD® system. The environmental performances of Coradia Polyvalent have been determined on the basis of dual-mode Regiolis material composed of 4 cars, a version of the train that represents the range.
The environmental declaration for Coradia Polyvalent is one of the many examples of Alstom's commitment to sustainable mobility. Notably, the company is working to limit the consumption of energy required to both manufacture and operate its solutions.
The train incorporates numerous technological innovations to improve its energy efficiency, reduce the environmental impact of the materials used and reduce their maintenance, limit noise levels and the emission of substances into the air, water and soil, and anticipate the end of life of the material. Its reduced weight, thanks to a multi-material body structure, and its traction, based on a permanent magnet motor with optimised performance, combined with an original design, enable Coradia Polyvalent to reduce its energy consumption by around 15% compared to previous generations. Furthermore, the train's life cycle, from conception to recycling, represents an investment for the future thanks to its long 40-year life span. Coradia Polyvalent is up to 98% recyclable.
"For Alstom, transport systems must be fluid, respectful of the environment, secure, connected and accessible. With over 100 experts in the domains of eco-design, energy and materials, the company is working to promote the image of rail which remains the most sustainable mode of motorised transport thanks to solutions with optimised environmental performance, such as Regiolis," said Jean-Baptiste Eyméoud, Senior Vice President for Alstom France.
The Coradia Polyvalent range is Alstom's answer to the needs of the suburban, regional and intercity market. This new-generation train is modular and accessible. Today, Alstom has set itself new environmental targets. The company is committed to reducing the energy consumption of its transport solutions by 20% by 2020 (compared to 2014 levels). Alstom is also committed to reducing the energy intensity of its operations by 10% between now and 2020.
About Alstom
As a promoter of sustainable mobility, Alstom develops and markets systems, equipment and services for the railway sector. Alstom manages the widest range of solutions in the market – from high-speed trains to metros and tramways – and associated maintenance, modernisation, infrastructure and signalling solutions. Alstom is a world leader in integrated railway systems. It recorded sales of €6.2 billion and booked €10 billion of orders in the 2014/15 fiscal year. Headquartered in France, Alstom is present in over 60 countries and employs 32,000 people today.