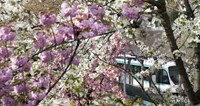 Alstom is convinced that transport systems should be fluid, eco-friendly, safe, connected and accessible. The company is constantly working on enhancing rail's reputation as the greenest public transportation mode, striving to reduce the energy- related costs of its products, and is committed to reducing transport's carbon footprint.
In recent years, Alstom's technical innovations have allowed significant reduction in the energy consumption of its trains. The company has set new targets for the energy efficiency of its solutions and operations by 2020: decrease the energy consumption of its transport solutions by 20% (compared to 2014 levels) and the energy intensity of its own operations (factories, offices…) by 10%.
"We expect to reach our -20% target through better tracking of our solutions' energy performance using standardised assessment methodologies, deployment of the best available technologies on all types of trains, innovation for higher energy efficiency and collaboration with our customers and suppliers. In parallel, transport patterns must evolve. To keep global warming below the +2°C target, it will be imperative to move towards the modes that have the lowest carbon footprint and which are globally the most sustainable," said Cécile Texier, Sustainable Development Director at Alstom.
Alstom will participate in events around COP21. On 28 November, Alstom management will participate in the "Train to Paris" campaign, co-ordinated by UIC. The trains will bring delegates including national governments, NGOs, decision-makers and journalists from across Europe by train to Paris for COP21. The objective is to promote freight and passenger rail as a sustainable, low-carbon solution to climate change. On 6 December, Henri Poupart-Lafarge, Alstom's Executive Vice President, will participate in a plenary session at the Transport Day organized by UIC. Finally, on 7 December, there will be a debate organized by Fer de France in Le Bourget, featuring Henri Poupart-Lafarge, as well as Spanish Transport Secretary of State, Julio Gomez Pomar and Keolis President, Jean-Pierre Farandou. The theme of this debate will be: "Sustainable mobility by 2030: which model for railway transport?"
About Alstom
As a promoter of sustainable mobility, Alstom develops and markets systems, equipment and services for the railway sector. Alstom manages the widest range of solutions in the market – from high-speed trains to metros and tramways – and associated maintenance, modernisation, infrastructure and signalling solutions. Alstom is a world leader in integrated railway systems. It recorded sales of €6.2 billion and booked €10 billion of orders in the 2014/15 fiscal year. Headquartered in France, Alstom is present in over 60 countries and employs 32,000 people today.