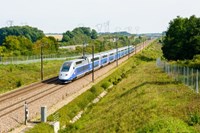 French train maker Alstom SA is in advanced talks to acquire the rail business of Bombardier Inc., according to people familiar with the matter, as the embattled Canadian firm offloads assets following a costly expansion in aerospace.
Alstom and Bombardier could reach an agreement as early as this week, though talks could still be delayed or fall apart, according to the people, who asked not be named because the information isn't public. Bombardier, which also makes planes, reports earnings Thursday and has been exploring asset sales to raise much-needed cash.
Alstom could pay about 7 billion euros ($7.6 billion) for the rail business, Handelsblatt reported earlier, without saying where it got the information.
The purchase would make Alstom the clear No. 2 in rail equipment and help it counter industry leader, China's CRRC Corp., which is increasingly targeting global sales. The Franco-Canadian deal would come after a merger between Alstom and Germany's Siemens AG was blocked last year by the European Union on antitrust considerations.
The discussions, which were first reported by Bloomberg News on Jan. 21, started before Bombardier shocked the market last month by warning of disappointing fourth-quarter sales. Bombardier announced Thursday it will exit a venture with Airbus that builds the A220 jetliner to preserve cash.
A spokesman for Bombardier's rail unit declined to comment as did an Alstom representative.
About Alstom

As a promoter of sustainable mobility, Alstom develops and markets systems, equipment and services for the transport sector. We offer a complete range of solutions (from high-speed trains to metros, tramways and e-buses), passenger solutions, customised services (maintenance, modernisation), infrastructure, signalling and digital mobility solutions. Alstom is a world leader in integrated transport systems.