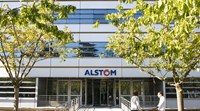 Alstom has signed a Memorandum of Understanding (MoU) with IDRO - the Industrial Development & Renovation Organization of Iran - to develop industrial cooperation with the Islamic Republic of Iran, in line with applicable laws and regulations, in the field of mainline and urban transport. The signature took place in Paris on 27 January, 2016, in the presence of Mohammad Reza Nematzadeh, Iranian Minister of Industry, Dr. S Reza Norouzzadeh, Iranian Deputy Minister of Commerce, Mines and Trade and Chairman of IDRO, and Henri Poupart-Lafarge, Chairman and CEO of Alstom.
The aim of the MoU is to initiate discussions for an industrial cooperation as well as train production and maintenance in Iran to better address the country's needs for mainline and urban transportation. A joint-venture is also being considered to execute the projects. This partnership would participate in the development of the country's infrastructure and urban and national public transportation, and contribute to the redynamisation of the local economy.
"Alstom is pleased to renew its collaboration with the Islamic Republic of Iran, which will benefit the country's economy, modernise its industry and enhance the mobility of its residents. This MoU reflects the strong desire of the Iranian authorities to develop the country's railway sector and Alstom is looking forward to accompanying Iran in its transformation" said Henri Poupart Lafarge.
Alstom is already well established in the Middle East & Africa Region with more than 1,500 employees, 1,400 suppliers and several joint-ventures in Algeria, Morocco and South Africa.
About Alstom
As a promoter of sustainable mobility, Alstom develops and markets systems, equipment and services for the railway sector. Alstom manages the widest range of solutions in the market – from high-speed trains to metros and tramways – and associated maintenance, modernisation, infrastructure and signalling solutions. Alstom is a world leader in integrated railway systems. It recorded sales of €6.2 billion and booked €10 billion of orders in the 2014/15 fiscal year. Headquartered in France, Alstom is present in over 60 countries and employs 32,000 people today.